There are so many foosball table brands in the market that would make anyone feel overwhelmed.
However, it doesn't have to be like that.
This guide will help you find the best foosball table that meets your preferences and budget in just a matter of minutes.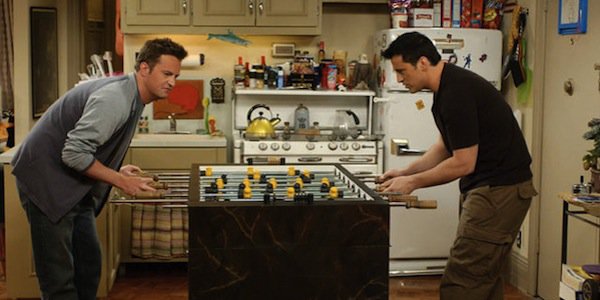 I try to do my best to provide the most relevant and objective information without favoring any brand or model over the others.
The goal is to give you access to a well-formatted, straightforward and unbiased reviews that will make the process of choosing the "right" table easier and less time-consuming.
So, I hope that these reviews below will be of a great help to you.
The Best Foosball Tables For Home Use In 2021
1. Best Overall Foosball Table: Kick Legend
The extremely durable KICK Legend foosball table has a very elegant look that exudes grandeur.
Hardwood and MDF particle board are the main materials that have been used to make this table, so you know it can withstand the heaviest play.
Better yet, the curved design of the ebony legs ensures its stability so that the table doesn't budge even during an intense game.
Just as well, sturdy leg levelers have been included to ensure you always get to play on a leveled playing surface that's not sloping.
The ½" Thick playing field has excellent balance and is free from the dead spots you might find on other foosball tables. Conveniently, there is also a ball return on either side of the table. This way, you don't have to reach into the goal to retrieve a ball.
The player has the option of choosing between a single-goalie configuration and a three-goalie configuration.
Semi-solid stainless-steel chrome-plated rods have been used, and these are extremely durable. Couple these with the premium bearings, and you get to enjoy a smooth gameplay experience with precise player control.
The counterbalanced men will stay in place whichever position you place them in, and they provide easy dribbling. This table comes with 4 foosball balls: 2 official KICK premium balls and 2 KICK soccer-style balls.
All in all, this is a premium quality table that comes at a very affordable price
Pros
Very sturdy build
Comfortable, ergonomic handles
Lifetime warranty
Cons
Assembly can be a bit challenging for the unexperienced
2. Runner-up Foosball Table for Home Use :Warrior Table Soccer Pro
The Warrior Table Soccer Pro foosball table is a tournament certified table that's recognized by both the USTSF and the ITSF.
This table uses a pro-style ball return system whereby the ball is channeled to the center of the table without the use of any hoses.
The table also incorporates a rod guard safety system that prevents distracted players from being hit by a fast-moving rod.
The solid steel rods come with the foosball men and handles already attached, which greatly reduces the time it takes to assemble this table.
As a matter of fact, fast and easy assembly is one of the key highlights of this table. High-quality split bearings have been used, and these allow for faster and more powerful shots.
The design of the bearings is such that it allows for easy installation of the rods. You simply place the rod through the opening and easily attach the bearings.
The ridged feet of the foosball men are meant to provide better ball control and grip. This way, the player is able to execute all shots, and banking the ball is also made much easier.
The table comes with 2 warrior tournament balls in the official tournament size and weight. The balls are also textured to improve ball control and grip.
In conclusion, the LED lights on this table are the icing on the cake, and they immediately enhance your gameplay.
Pros
Has fun LED lighting.
Very sturdy construction.
Has rod guards for enhanced safety.
Cons
There some parts made of plastic
3. The Best Budget Foosball Table: Atomic Pro
Another great table that happens to be in this price range is the Atomic Pro Force. Atomic happens to manufacture awesome foosball tables.
This table here is a proof of their capacity of building well-crafted tables that are affordable to most people. That'ss why I think it's the best foosball table, by far, for beginners that have a tight budget.
Atomic Pro Force was mainly built using MDF material that is relatively solid for most usage levels. The secret of this amazing exterior design that this table has is the rich bamboo laminate. You can see that it was finished properly with attention to every detail.
The dimensions of this table are 56″L x 29.5″W x 34.5″H. It comes with hollow chrome steel rods with good-quality handles for proper control and fast play. There's a manual slide scoring system included alongside with a built-in ball return and  3.5" leg levelers. Also, there are four balls included.
The bottom line is that this table presents good value for money with a decent solid construction and clean design. It's totally worth it for people with a limited budget.
Pros
Solid construction
Affordable price
Easy assembly
Doesn't feel like a cheap table
Cons
Cheaply made material used in some parts
Ball return system is not the best
4. The Best Tabletop Foosball Table: Rally and Roar
This Rally and Roar foosball table is a mini portable foosball table that perfectly suits families with kids. As much as this is advertised as a suitable miniature foosball table for kids, adults can play on it as well.
The compact table measures 40" L x 20" W x 9" H, meaning it is actually large enough to hold up to four players at any one time.
Weighing just 16.1 lbs., this lightweight tabletop model is designed to be incredibly portable, so you can conveniently take it with you wherever you go.
Just pop it up on a flat surface, and you are good to go. Despite its small size, this table is built to last using premium materials and sturdy construction.
The rods are made from steel-plated chrome, while the ergonomic wooden handles provide a smooth and sturdy grip. The foosball men are made from tough ABS plastic that's guaranteed to be unbreakable.
The folding legs on this table are foam-padded, and the advantage here is that it can be placed on multiple surfaces without you having to worry about scratches.
Pros
Easy to set up and break-down.
Very sturdy build.
Incredibly portable.
Cons
Cheap material (but all tabletops are like that)
5. Best Foosball Table For Kids: Best Choice Products 48 in
Now let's talk about Best Choice Product's foosball table. The exterior design of this table isn't as sexy as the previous table but it's sturdier. But, it's not as solid as other more expensive tables. If you're paying below 100 bucks, there's no way you're getting a solid table.
This table here is made using MDF in most of the parts. Obviously, the MDF used isn't a top notch quality but it's a decent material for the amount you're paying.
The table dimensions are as follows 47" L x 24" W x 33" H. There's steel rods with comfortable grips for easy control of the bars.
This table actually features some good additional accessories. My favorite is the cup holder that is attached to each side of the table. So, you can be drinking a beverage while playing foosball.
As most table, there's two balls included and a manual scorer. The table has a one-man goalie which is has to be noted.
To sum things up, this table isn't a bad table at all giving the fact that it's cheaply priced.
As I mentioned before, the major downside of tables this cheap is the low-quality material used in the construction. If you want a table that can last for years, you'd have to move on to a higher price range.
6. Best Runner-up Foosball Table For Kids: Hathaway Playoff
We all agree that Hathaway makes great game tables. They have some amazing pool tables and air hockey tables. And apparently they have one of the best low-entry foosball tables on the market.
It's the Hathaway Playoff. This table is cheap and does deliver a decent playing experience that people seem to enjoy.
Let's start with the basics. The dimensions of the playing surface are 40.5″ L x 23″ W and with a thickness of 1/4″ which delivers a decent play pace. The construction of this table is made using some MDF engineered wood that is CARB certified. It's not the best material but giving the price it's quite decent.
This table features chrome-plated steel rods that are light which speeds up the game. Also, it's three-man goalie table with 13 players for each side. There's also some amazing extra features such as the manual scorer and goal boxes that have built-in automatic end ball return.
In short, the Hathaway Playoff is a decent soccer table. For this price, I think we can even say that it's a great deal. It's well built with great additional accessories that makes the playing experience a lot of fun.
However, it's not a table that would last for more than 2 years if it was used regularly. It all depends on the intensity of your use.
7. Best Outdoor Foosball Table: Garlando G-500
Garlando G-500 is a weatherproof foosball table that is made using top notch materials for maximum durability.
This table also is a perfect fit for people who have problems with humidity. This table is resistant to most outdoor elements.
The Garlando G-500 features a marine plywood cabinet with telescopic steel rods that are both light and safe for children.
The finishing materials are waterproof and washable to make the cleaning of the table convenient. The playfield are made using plastic laminated plywood which is highly resistant.
The table comes also with nylon leg levelers to allow you to even the table whenever you're playing on some uneven surface. It's a one-man goalie table with players that are permanently molded to the rods. Many buyers have said that this table was easy to put together.
The Garlando G-500 is a heavy duty table that was made to last. It's a very strong table that will survive any type of weather without showing any warping.
However, I think its extra features aren't really as they should be. For example, the players aren't counter-balanced and the ball-return system has flaws. I think they could have done a better job in this area. But, still a sturdy table.
8. Runner-up Outdoor Foosball Table: Kettler Weatherproof 
The Kettler weatherproof foosball table will be a great fit for your patio or backyard if you are looking for a foosball table you can set up outdoors. Because the table is exposed to the elements at all times, it must be constructed from premium durable materials.
First off, this table's playing surface is made of glass, which allows for high-speed plays in addition to being incredibly durable.
The high-speed action is further enhanced by the nylon bushings that have been used to reduce wear and tear.
As for the cabinet of the table, high-quality laminates and weatherproof resin have been used in its construction.
Besides enhancing durability, these materials give the cabinet impressive strength, capable of withstanding the roughest plays.
The side and corner ramps of the playing surface have been raised, and this ensures that the ball is always in play, so there aren't any dead spots on the table.
Telescopic rods have been used on this table, and these are made using high stress-resistance steel. They are then finished off with anti-rust chromium plating for weatherproofing and sturdiness.
Unbreakable players have been molded on the rods to ensure their longevity. The table comes with an integrated ball drop that's centered on both sides of the table. This provides a fair ball drop at the start of each round.
Overall, the Kettler foosball table is a premium table suitable for outdoor use all year round. It's sure to exceed your expectations
Pros
Comes with a foosball table cover.
Incredibly durable and sturdy.
Great value for money.
Cons
The handles are quite thin.
9. Best Foosball Table For Tournaments: Tornado Tournament 3000
Tornado Tournament 3000 is the official game table of the International Table Soccer Federation (ITSF) and the Tornado National Foosball League.
The table has a thick commercial-grade cabinet that's guaranteed to withstand tough and intense plays. There are end protectors as well, which help preserve the laminate edges of the table.
The sidewalls have an impressive thickness of 1.63", which you can only find on the very premium tables.
Also, the split cabinet design makes it very easy to clean the table or when you need to perform any periodic maintenance.
The counterbalanced foosball men have specially designed feet that offer better and more precise ball control.
The chrome-plated hollow steel rods allow for the smoothest play. Additionally, the thick rods are heat-treated, and this gives them added strength.
Molded handles are attached to the rods, and these have great non-slip properties for enhanced comfort and grip. The tournament 3000 weighs a hefty 355 lbs.
While this might not be ideal for a portable table, tournament tables need to be this heavy because the heft is what contributes towards the table's stability and durability.
Rest assured that even when a match gets heated, this table won't sway or move an inch as the players slam the rods aggressively against the side of the table. Also, leg levelers have been attached to the solid legs to ensure fair play.
This foosball table features a single goalie setup, and conveniently, it comes with a unique ball drop mechanism that's approved for tournament play.
Pros
Straightforward assembly.
Precise ball control.
Fast, smooth gameplay.
10. Best Foosball Table For Office: Tornado Sport
We finally arrived to review a Tornado table. They are widely known for being the tables used in all ITSF world championship competitions since 1986. In other word, Tornado foosball tables are world-class tables. That's why my second recommendation is the Tornado Sport.
Tornado Sport is the cheapest Tornado table in the market. But, it's far better than most soccer tables out there.
This table is made using high-quality manufactured wood with a Mahogany melamine finish of the cabinet that gives the table an outstanding exterior design.
The table comes with the following size dimensions 36" H x 56" W x 30" D. There's telescopic steel rods that are perfect for fast play. Woody adjustable legs with booth levelers are included.
There's manual scoring slider, dual ball return systems and precision-ground balls included. Note that it's a one-man goalie table.
Bottom line, The Tornado Sport is a well-constructed table that comes with an incredible finish and awesome features.
It's a tournament-grade foosball table that was built to last for years if not decades. Its price is reasonable if you take into consideration the value you're getting in return. Totally worth it.
How To Choose The Right Foosball Table For You ?
This section contains four essential questions that you need to answer correctly in order to make a good decision. These questions will make the process of decision making a lot easier for you.
Which Foosball Table Type Is Right For You ?
There are different types of soccer tables that are designed to meet different needs. Basically, there are two main types: tabletop and stand-alone tables. Plus, I added here a third type which is the multi-game tables.
It's like a mini table that are designed for people with limited space. It comes without any legs and it can be put on top of any solid surface. It's not heavy at all and it can be taken to any place you want.
In general, these tables are made for children. That's why they are a lot smaller then stand-alone tables. So, they can be easily used by young kids without fearing any sort of injury or anything. Obviously, this type of tables is cheaper than stand-alone type.
Stand-alone Foosball Tables
These are the regular type. We you normally hear people talk about foosball tables, they usually refer to this type. Stand-alone or full-sized tables are heavier, bigger and more expensive than tabletop tables.
Stand-alone tables, as their name indicates, come with attached legs that enable the table to stand by its own. Usually, they require more space and are designed for old teenagers, adults and pretty much anyone who's looking for a competitive foosball game.
Multi-game Foosball Tables
This type of table is common with other game tables such as pool tables and table tennis tables. Multi-game here refers to a foosball table that can be converted into other games like the ones mentioned earlier.
This type is a good choice for people who don't have a lot of space and still want to enjoy multiple games on the same table. However, these tables are usually very expensive especially if you wanna buy something that can last for years.
Who's Gonna Use The Foosball Table ?
This is a crucial question that you need to have a clear answer to it. The choice can vary a lot when the target user changes. The right foosball table for your kids isn't remotely the right table for your recreational center. That's a whole other thing.
Usually kids under 10 years old wouldn't enjoy playing in a full-sized foosball table because of the height. That's why considering a tabletop table can be the right thing to do.
Teens are really competitive and they wanna play the same games as adults. That's why a tabletop table would be the worst gift you can give to your teenager kid. So, for teens it's recommended to get a regular stand-alone table.
That's a no-brainer. Full-sized tables are the way to go here. However, if you are really a hardcore foosball player and you intend to use the table regularly, you should consider a more expensive professional table.
For Recreational Center/Office Space/A Club
Purchasing a soccer table that will be used by different people in a daily basis is DIFFERENT than the previous purposes. That's a whole other level. You'd need to purchase a solid table that can survive the constant and intense use. That means you'll need to pay a lot more.
What's Your Skill Level ?
Beginners can be either kids or adults who are looking for casual play. For kids, it's recommended to go for the tabletop tables that are cheap and easy to use. For adults, it's better to go for cheap regular tables since all you want is a few regular games from time to time.
This category refers to adults that have some experience in playing foosball. They are looking for something that can offer a good playing experience. A table that is made with better quality materials and can last for a long period. They would buy a mid-entry table that costs usually more than 500 dollars.
These are serious people that have been playing foosball for years. They would buy a table that respects the standards of the ITSF. They are looking for a sturdy table that will provide a flawless soccer table playing experience and be able to endure heavy and constant use.
What's Your Budget ?
That's an obvious step, but I had to put it here as a reminder.
You need to determine how much you're willing to pay for a foosball table. It doesn't have to be an exact number. You can set an interval. For example, you can set a budget that is between 400$ and 600$.
It all depends on your financials and how much you can afford.
Things To Consider When Buying a Foosball Table
I assume that you are know aware of the type of  foosball table that you wanna buy and that you have fixed a clear budget dedicated to this purchase.
Now, it's time for learning some basics about foosball tables. These are the most important features that you need to consider before making your purchase.
Table Size
The first thing you need to do is to measure the available space that you have available in your place. If you have plenty of space, then you don't have to worry about the size of the table that you purchase.
But, if you live for example in a small apartment, the size of the table becomes an important factor in your decision. You'll need to have enough space not just for the table but for your movements around the table. So, you'll need to consider three to four feet for movement if you want to play freely and comfortably. Also, don't forget that the rods
The standard sizes for most full-sized foosball tables are 56″L x 30″W x 36″H. These measures don't take into account when the rods are full extended. So, don't forget taking them into consideration.
Table Materials
A crucial factor that differentiate low quality tables with top-notch tables is the type of materials used in the construction. There are three types of material that are usually used in building soccer tables. They are:
Particle board
Composite
Solid wood
Generally, the cheapest tables are made using particle board which is not a very strong material. Particle board can break down over time and it doesn't guarantee a long durability.
Most of the high-end tables are made either from composite or solid wood.
In theory, solid wood is the best material because of its durability, attractiveness and high-quality playability. However, the only issue with wood is the humidity. When a table made from wood is stored in a humid room, there's a high probability of seeing some warping.
In the other hand, composite is more resistant to moisture and humidity. But, unfortunately it doesn't provide the same quality of play that solid wood can deliver.
Bottom line, avoid buying tables made using particle board if possible. Instead, go with wood if you don't have the problem of humidity in your place. Composite can be the best option if you're looking for an outdoor foosball table.
One other thing, the type of the material isn't all you need to worry about. Keep in mind that the thickness of the material is important as well. Make sure that the table you purchase has at least a thickness of 1″.
Playing Rods
One of the main keys to a good foosball experience is the quality of the rods that comes with the table. There are two main types of rods that you can find in the market.
They are both made of steel. The first type is hollow steel rods which are considered to be the best. Most expensive table come with this type of rods. This type of rods is lighter which can really speed up your game. As a result, it makes the play more fun.
The other type is the solid steel rods. This type is usually found in mid-entry tables and it's not bad at all. They're great actually. But, they are not as fast as the hollow steel rods.
Table Surface
It's plain simple. A smooth playing surface provides a fast-paced play. I guess that you would want. So, you should make sure that the table surface has a hard finish. In other words, tables with a high thickness tend to provide a faster ball travel.
Also, I'd recommend staying away from tables that have some stick-on designs on the surface because it can be easily peel and roll up. This would make your table look terrible and may even harm the quality of the play.
Number of Goalies
Goalies are the players that are attached to the last rod in your defense. Most American tables have three-man goalie which are ideal for most beginner and intermediate players.
However, European tables (It's like there's nothing Americans and Europeans agree upon) have a one-man goalie. As you can see, the next type is often preferred by more advanced players who want to level up the game and make it harder.
Players
One important thing you need to understand here is the counter weighted men. This refers to players that stay on an horizontal level when they are released. So you don't have to worry about them blocking your ball or anything.
This feature is a must-have in my opinion. At least if you wanna enjoy your game to the fullest. Therefore, make sure your table have counter weighted men.
In addition, you may wanna take a look at the material used to make the players. Usually, they can be either made from plastic or steel. You'd want to go always with steel players because they are heavier and give you more power when shooting.
Adjustable Legs
This is not a must-have feature but you may want to consider it. Some tables come with adjustable legs that can be used to adjust the height of the table. The main utility of this feature is to allow you to make the table even if it was placed on an uneven flooring.
Warranty
One last thing to consider the warranty that comes with the table. The average duration is 1 year for most foosball tables. However, some tables that are cheaper can offer less than 1 year warranty.
Remember that you can always purchase an additional warranty for your table in case warranty is very important to you.
FAQs About Foosball Tables
How Much Does A Good Foosball Table Cost?
You may spend between $700 and $1,200 on a decent foosball table.
However, some foosball professional tournament-style tables can easily cost upwards of $2,200.
Why Do Some Foosball Tables Have 3 Goalies?
The 3-goalie configuration all started in 1980, with the 3-goalie Tornado that was designed for Ed McCloud.
The reason behind this is because the designer of this particular table couldn't find any other way to install the ramps with his current set of tools.
Since then, the 3-man goalie has become very popular in the US, so much such that this is considered the standard on foosball tables.
Are KICK Foosball Tables Good?
KICK foosball tables are really good, perfectly combining superior quality with affordability.
Built to last, KICK tables even come with a lifetime warranty, which you won't find in many foosball tables.
How Many People Play on A Foosball Table?
Between 2 and 4 players at a time.
What Are the Best Brands of Foosball Tables?
Some of the top foosball table brands include:
Tornado
Atomic
Garlando
Hathaway
Shelti
What Is the Warranty Available on Foosball Tables?
This largely depends on the brand or manufacturer in question.
While some brands may come with a 1-year warranty, some offer 3 years, some 5 years, and others even go as far as to offer a lifetime warranty.
Still Confused ?
I know that sometimes it's hard to make a final decision even if you have all the information in front of you. After all, we're only humans. It's in our DNA to hesitate especially if the decision is very important to us. That's why I came up with an easy solution for people in this situation. Just comment below and I'll try to help.
Before you go, I would like you to share this guide with the people you know that might find it helpful. That would mean a lot to me since I've put a lot of work to create this guide which I hope will help people looking for a reliable foosball table.