Finding a really good and reliable multi-game table has been always a struggle to most of us.
There are so many options out there but very few tables are really worth the trouble.
This buyer's guide comes to end the suffering once and for all.
In this guide, you'll find my top pick for the best multi-game tables for both adults and kids.
Best Multi-Game Tables For Adults: Detailed Reviews
1. Fat Cat: The Best Multi Game Table In 2021
If I had to choose one table to review in this guide, then Fat Cat would be it. This table has been one of the best multi game tables in the market in the last few years.
With this table, you will have multiple games at your disposal, as you can play three games at one table.
The games included are billiard, table tennis table, and air hockey table, and the quality for each is top-notch.
To ensure optimized gaming, tri-fold technology has been integrated.
Through this technology, game-changing is easy as you can unlock the latches and flip over to start a new game.
In addition, you can gain storage by locking it upright. Even if you have a small space, it can fit in perfectly with its six-foot size.
Each table is designed to offer a fantastic experience with durable playing surfaces.
There is a built-in pocket design and stuffed with benefits.
The playing area is lined with rubber to ensure ball bounces, and on the top, there is cloth cover.
When you flip over the table, there is an air hockey table as compared to other combination tables with slide air hockey features.
The ideal function of this table combo is the electric motor with 220-volt power and the manual scoreboard to keep track of scores.
In this set, there are billiard balls, cue sticks, chalk pieces, table tennis paddles, a resin triangle, four pushers, and pucks, along with a net.
Pros
Storage space is available
Suitable for small spaces
Rubber lining with cloth on top
220-volt electric motor
Manual scoreboard
Multiple accessories
Cons
Difficult assembly
Weak air jets
Non-drillable body and there are no pre-drilled holes
2. Best Choice Products Combo Game Table Set
As the name suggests, this can be the ultimate best choice that empowers players to play ten different games with this combo table.
The Best Choice Products set comes with games included such as foosball table, slide air hockey table, pool table, table tennis table, shuffleboard, cards, chess, backgammon, checkers, and bowling.
This table allows the users to keep different surfaces between the foosball and billiard table base, which saves a lot of space.
Well, what we love is that with this table, everyone can have fun.
There are four strong legs with zero slippage.
In addition, there is no risk of table falling with optimal stability.
Furthermore, the exterior of the table has a wood-like texture, which makes a perfect table for the game room.
The table tennis table is double-sided, and the safety locks keep the table in place.
Last but not least, there are chalk pieces, cue sticks, pool balls, playing balls, pushes, felt pads, and net.
Pros
Bases are available for ten different games
Space efficient
Sturdy legs with zero slippage and high stability
Double-sided table tennis bard
Wood-like exterior texture
Safety locks
Accessories
Cons
The table is small for adults
Narrow design
3. GYMAX Multi-Game Table, 3-in-1 Versatile Game Table
If you are a fan of combination gaming tables, this is the perfect fit.
It allows the players to play table tennis, billiard, and air hockey.
In other words, you will have sporty soul satisfaction because there are a plethora of enjoyable games.
This combination table has space-saving capabilities, and you can even play with family.
The table is easy to assemble, and the usability is top-notch. The easy assembly ensures you are empowered to play a number of games.
The material is scratch-proof and comes with multiple accessories.
For instance, there are cue sticks, billiard balls, stick chalk, triangle, pucks, strikers, and tennis rackets, along with the Allen key and net.
The outer material is non-toxic to ensure your kids aren't at any harm.
There are multiple colors, such as blue, black, and green, along with the mood and metal combination table.
Last but not least, it has a highly functional design that pushes us to name it ergonomic.
Pros
The table comes with three built-in games included
Space efficient
Easy assembly
Scratch-proof and durable exterior
Multiple colors
Ergonomic design
Non-toxic material
Cons
Short legs which require an additional tabletop
4. Triumph 3 in 1 Swivel Multigame Table
This is another three-in-one multi-game table with efficient flip features.
Through this table, you can play table tennis, billiard, and air hockey to ensure you are able to satisfy the sporty soul.
The flip design ensures you are able to switch from one game to another without any hassle.
The flip technique used is rotatiSvelSwivel.
Moreover, it has a central air distribution system.
This ensures optimal air circulation through the table.
This table has the optimal size and fitting that makes it appropriate for your room.
There are multiple accessories as well to ensure you have everything to enjoy three different games that we have mentioned.
Pros
Ergonomic design
Durable
Safe performance
Easy to play
Multiple accessories
Sturdy design
Fits in the room perfectly with regular size
Cons
Difficult assembly as it requires technical expertise
5. Hathaway Maverick 7-foot Pool and Table Tennis Multi-Game
If you want something with nary second thoughts, this table is the ultimate fit because it doesn't take up a lot of space.
This set will provide the value of money, and the table can be fitted anywhere.
No matter if you want to play ping pong or pool, this table is apt for the excellent gaming experience.
When it comes to accessories, there are two pool sticks, chalk, billboard balls, net, brush, and the bats to enjoy gaming.
The table playing surface has K66 rubber cushion, and the ping pong top is removable as well.
The table switching is easy with the two-step conversion.
No matter if you have the kids or an adult waiting to play at this table, this table is the ideal size with highly adaptive, stylish, and efficient features.
The conversion has Maverick conversion, which makes switching a two-second procedure.
In addition, the table has resin-molded drop pockets with blended felt and topped with the poly-sealed billiard table surface.
Pros
Easy to assemble
Leg lever
Multiple accessories
K66 rubber cushioning
Maverick conversion
Cons
Non-bouncing balls
Small size
Best Multi-Game Tables For Kids (Youth) In 2021
1. Sunnydaze 10: Best Combination Table For Kids
When it comes to combined tables, this table from Sunnydaze has to be one of its kind.
It gives players a chance to play checkers slide air hockey, foosball, cards, shuffleboard, backgammon, pool, bowling, and ping pong of course.
In this set, there are all essential accessories that ensure you switch from one to the game to another easily.
If you have compact space, this table offers storage options as well for stacking.
Different tables are available in the stacks between the foosball table and billiard table to ensure you have every game at your disposal.
The overall design is pretty sleek and durable.
The playing surface is smooth to offer optimal gaming, and the graphics are enough to keep you engaged.
Every game table has different dimensions that ensure there is no hassle in playing a certain game.
Pros
The set comes with accessories
Compact size
Storage options
Durable yet sleek design
Multiple dimensions for each game
Smooth surface for gaming
Cons
Assembly can be difficult
Heavy which makes it challenging to move around
2. Lancaster 48' 3 in 1: 2nd Best Choice For Kids
This 3-in-1 table is a combo of billiard table, air hockey table, and foosball table with billiard table being the main surface top.
Similar to the Giantex table, this Lancaster model also features smart side lock mechanism, and this is what is used to add the other gaming tables to the pool base.
This side lock mechanism not only makes it fast to switch from one game to the other but it also holds the table stable and securely in place.
Being a 48" table, this table has a very compact footprint, meaning it can conveniently be purchased for a small apartment with limited space or a kids' playroom.
It is also made from high-quality, durable materials that are also non-toxic making the unit safe for use by kids even when they are unsupervised. For enhanced sturdiness, this table has reinforced legs which ensure there will not be any wobble while using the table.
This table is very easy to assemble as it comes with clear instruction so players should be able to put the product together in a matter of minutes.
Also, it comes at an affordable price point with all the basic accessories for each game being included, and there are also manual scorers included on each side to aid with score-keeping while playing.
3. Giantex 4 in 1 Multi-Game Table: Best Cheap Multi Game Table
This Giantex multi-game table is perfectly versatile, which is just what anyone wants in a good multi-game table. To begin with, this table comes with four gaming surfaces: foosball, billiards, air hockey, and table tennis, with pool/billiards being the base table.
The other tables are added on using a smart lock mechanism whereby the desired game table is simply placed on top of the existing gaming surface and players can play in a matter of minutes.
Still, on versatility, this multi-game table is more of a cross between a multi-game table and a conversion top. It can be placed on an elevated surface or the floor, and this set up particularly comes in handy when several people are playing different games at the same time.
Another point if the fact that this multi-game table weighs a mere 31 pounds, and so moving the unit around would not be a bother at all.
If players are looking for a small multi-game table suitable for small spaces and also suitable for younger and older kids alike, then this is the best unit to get. Besides, this table is made from non-toxic, durable, sturdy materials and all the accessories for the four games are also included.
To sum up, this table may not be the best and sturdiest table out there. However, it's certainly the best cheap option you have in front of you. The Giantex table provide many games that kids will certainly love. Plus, you don't have to spend a fortune on it. I recommend it for people with tight budgets.
4. Funmall 4 in 1 Multi-Game Table
This Funmall multi-game table is a perfect option for buyers looking for an extremely space saving game table.
When not in use, the foldable L-shaped table legs are designed such that the table can be stored upright rather than horizontally and this way, the unit can even be stored in the closet and taken out when in use.
The games that come with this 48" table are billiards, air hockey, table tennis and foosball and the set additionaly includes all the necessary accessories for each game.
Also, there is built-in storage space located between the billiards surface and the table, and the purpose for this is to store the other three game tables when not in use.
Constructed from a combination of MDF, PVC, and metal, rest assured that this high quality durable multi game table will last through many uses. Also, the colorful, playful graphics all around this game table make it a perfect choice for a kid's room or playroom.
5. Generic 4-in-1 Combination Game Table
The nice rick wood finish on this table makes it just the multi-game table you should want to get if you need a functional yet aesthetic piece to show off in your dining room proudly.
Besides looking good, this game table also features quality construction including oversized leg levelers for the sturdiness of the table while it is in use. Also for enhanced stability, the table features reinforced leg construction.
When the competition gets tough, and the game gets a little rough, players can rest assured that this table will competently stand up to the challenge.
The four games that come with this table are air hockey, table tennis, billiards and foosball with billiards being the base surface.
When not in use, the game table tops neatly store in the built-in storage area between the billiards base and the table. Because of the wood finish though, this table weighs a hefty 96 pounds, and although this makes it sturdy, it also makes it quite heavy such that players cannot move it around too often.
At 54", this table is large enough to be used by kids and adults alike, making it the perfect piece for some fun family time. However, adults need to be aware that the pool table pockets can be a bit too small for adult hands.
Buying Guide: How To Choose The Best Multi-Game Table?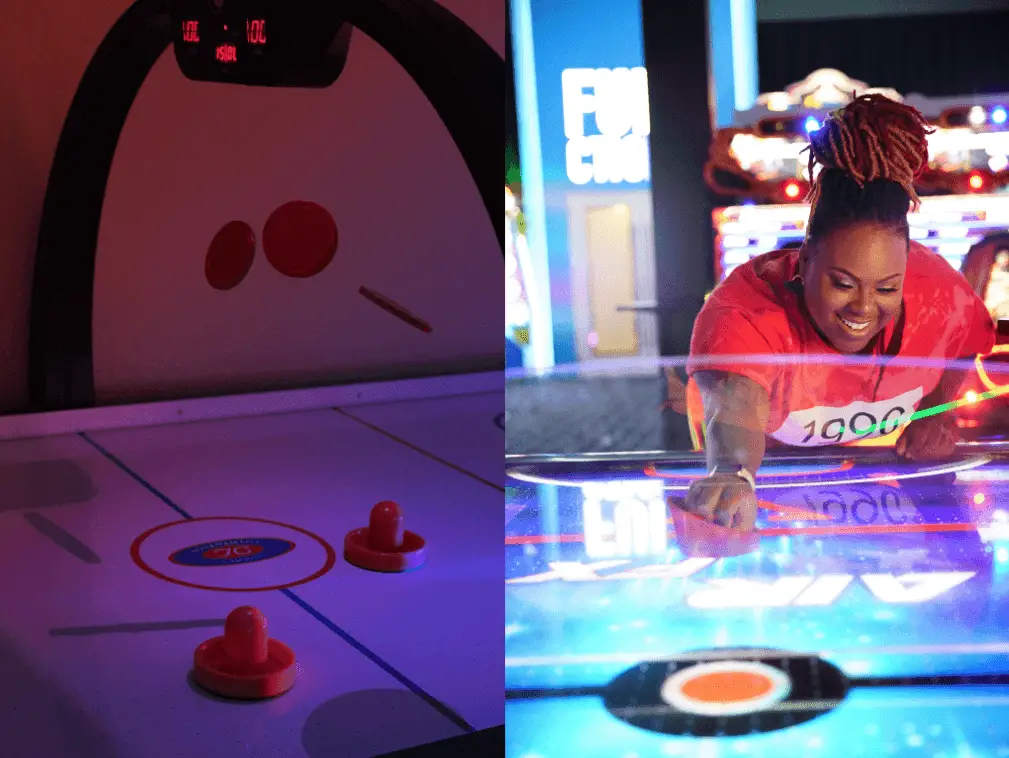 Introduce a multi-game table at a kid's birthday party, and you will have yourself a memorable party which all the kids will be talking about for years to come.
Based on real action and requiring on-the-spot sharp thinking, there is something completely exhilarating about gaming tables that even modern computer games do not match up to.
Combination gaming tables come in many variations though, and so it is critical to understand exactly what comprises the ideal multi game table for kids.
Types of Multi Game Tables
There are three types: attachable top, flip and hybrid multi game tables.
Attachable top combination tables come with a fixed top designed for a particular game, and the other game parts are placed on top of the fixed surface allowing users to play other games.
Flip tables, on the other hand, have two different games on either side of the top and so switching to a different game is as simple as rotating the top.
Lastly, hybrid tables combine both attachable and flip configurations. Different attachable tops can be fixed onto the flipping top thus giving players a wider variety of gaming options.
Conversion Top vs. Multi-Game Table
A multi game table comes with each game built into and integrated with the design of the table.
Conversion tops, however, are bought separately and can simply be placed on top of any multi game table or even on a common table top.
So, keep in mind this difference between conversion tops and full multi game tables.
As you may already figured it out, multi-game tables are usually more expensive than conversion tops.
What to Look For In a Multi-Game Table?
Which combo tables are the buyer interested in? How much available space do you have in your house/game room?
Shall the game table double as a dining space? Does the table come with seating options?
All these are very important questions to ask, before even window shopping for a multi game table.
When it comes to the size of the table and the available space, keep in mind that there needs to be sufficient room all around the table for players to move around and play comfortably.
Also, a table intended to double as a dining table should have a plain surface and preferable, it should also come with seating options.
You should search for tables which conveniently come with a host of accessories because these play the vital role of upgrading the gaming experience as well as the look and feel of a rec room.
Such accessories could include cue sticks for billiards and pool tables, paddles for table tennis, clay chip sets for card tables or even pucks for air hockey.
As far as design goes, buyers should be looking for something that's durable, versatile and features sturdy construction.
When buying a multi-game table for kids though, try not to spend a huge fortune on the product because chances are the table might wear out pretty soon if it is intended for very frequent use.
Besides, the last thing any buyer wants is to shell out thousands of dollars only to have the table swell up and deform when liquids are accidentally spilled on it.
A good multi-game table should be sturdy but without weighing a ton.
A table that is too heavy will be difficult to assemble, and it will also be difficult to move around if perhaps, you need to move the table from the dining area to the backyard.
Look for tables built from high quality, durable, materials that do not get dinged up easily and tables that also have a smooth playing surface.
Every multi game table table needs some sort of assembly, such as putting off one surface and taking on the other.
So, while you are choosing one, make sure easy assembly is available, and the instructions are readable.
Also, make sure there are accessories that help in assembling up the table.
You are buying the multi-game table so that you can play multiple games and if you use common sense, easy folding needs to be an essential point.
You need to opt for the tables that have retractable playing surfaces and the central surface is compact.
The compactness makes the table and tops easy to store and save. This is to be ensured for folding.
Moreover, do consider the availability of wheels as it supports the table and makes movement easy.
However, the wheels need to be locked to ensure the table doesn't move as long as you don't want it.
The tables often need to be folded, and if there are no locking mechanisms, it might open or close accidentally.
In other words, you need to look for the locking mechanism which keeps the locks and surfaces in place.
This ensures that the table doesn't open up accidentally and hurt someone.
Moreover, your fingers will be safe during the opening and closing of the table.
FAQs About The Best Multi-Game Tables
Which One Is Better, Buying a Multi Game Table or 1-Game Table?
The choice solely depends on the preference regarding your playing needs.
For instance, if you only like playing ping pong, the 1-game ping pong table is the perfect fit.
However, if you want to play multiple games such as table tennis, billiard, chess, poker, foosball, and backgammon, the combo table will be an apt fit.
Moreover, you can also opt for the combination table if you have less space but want to enjoy all the games!
Is It Safe to Have A Multi-Game Table Around Kids?
Yes, it is totally safe to have a multi game table around kids.
The multi-game tables are designed to take care of everyone's needs, and the configuration is apt for kids and adults all the same.
However, just make sure your table has a proper locking system.
Conclusion
Through this article, we have tried to put forward the top-notch multi-game tables that help you play all the table games that you want.
We have added the benefits of opting for multi game tables and what to consider while choosing one.
So, just draw out your preferences and enjoy the gaming night!