People have been playing pool for many centuries.
Despite the emergence of indoor games such as online poker, a pool table is still a popular piece of indoor or outdoor recreation equipment.
High-quality pool tables are pricey.
However, you can always find a functional pool table under $1000.
Let's jump right into the best pool tables for all budgets
[BUDGET] Best Pool Tables Under 1000$ In 2021
1. Fat Cat pool table
Envision owning a pool table in your home with this model from Fat Cat.
Without a doubt, it will complement your sports room.
Given the popularity of the brand name, you'll expect the quality to match the product.
We're impressed by the price, considering its half of what you'd pay to get a premium pool table.
Besides, they're a host of features that makes this product outstanding.
You'll find all the accessories for your game of billiards such as billiard balls, two cues, two billiard chalks, and a triangular rack.
With an overall measurement of 89.5L x 50.5W x 31H inches, this table will fit even in a small room.
The K66 rubber buffers cushion the diamond decorated rails, and the legs consist of sturdy mahogany with a veneer finishing.
The surface consists of a wrap resistant material, whereas the hidden pads ensure your table can stand on any ground.
The highlight of this table is the drop pockets that add a French appeal and classiness to your game.
Pros
Reasonably priced
Has everything you need for your game
A convenient size for a small room
Has K66 rubber bumpers that protect the rails
Sturdy legs
Stylish appeal
Can stand on any surface
Cons
Installation requires an extra hand
2. Barrington Belmont 90
Barrington is a premium brand renowned for the provision of high-quality gaming products.
The 90-inch Billiard table will give your man cave a vintage appeal.
You'll love having it in your home and outdoor places.
It's a baroque table featuring a claw leg design that will make your abode a center of attraction.
For an overwhelming billiard experience, the set includes everything you need.
In the assembly, you'll find two cue sticks, two chalk cubes, a triangular resin, one felt brush, fifteen billiard balls, and a cue ball.
This piece of entertainment unit is a highlight of beauty with its stylish claw leg and striking ball.
The K66 bumpers are of premium grade and offer a precise and even ground for balls to bounce.
The surface features a green felt made of a thick board and premium wool.
Together with the sturdy deck support and drop pocket design, you'll get a satisfying performance.
Pros
Beautiful rails made to last
Unique claw leg design
Plenty of accessories in the set
K66 bumpers for a consistence bounce
Sturdy deck support
A thick board
Cons
Heavy to move around during installation
3. MD Sports Billiard Table Set
MD Sports is famous for the production of authentic sporting products. This model brings some authentic appeal to your game of billiards.
If you need a billiard table for professional play, the MD Sports fits the bill.
With an overall measurement of 95.5 x 53.5 x 31 inches, it's larger than the Fat cat and Barrington 90″ versions.
Some features are loveable about this table. Featuring sturdy classic square legs and drop pockets, you'll get a taste of tradition in your favorite game.
The surface has a thick polyester felt with a wool blend that not only endures a rough play but also allows the ball to roll smoothly.
The drop pockets are made of leather and have a unique studio style, while the rails consist of the premium wood grain.
The K-818 rubber bumpers ensure consistency when the ball is bouncing.
Waste no time to have fun with family and friends by acquiring this pool table.
It comes with durable accessories such as two cue sticks, a triangular rack, two chalks, and a wood brush.
Pros
Sturdy square legs
Drop pockets have a classic appeal
Larger for professional play
K-818 rubber bumpers
Premium wood grain rails
All accessories present
4. EastPoint Sports Masterton Billiard Pool Table
The EastPoint Sports Masterton designs high-quality products, and their 87-inch billiard table is the ideal choice for your family.
There's no dispute that the overall appeal is both stylish and authentic.
For the price, this is a fair deal that will offer quality entertainment at home.
In the set, you'll find everything for your play, such as; two wooden cues, billiard ball set, triangular rack, table brush, and two chalks.
This version has a long luster coating and features a traditional pool design with claw feet while the pottery style drop pockets are scratch proof for longevity.
The leg design has an in-built leveling system that can withstand uneven grounds.
Therefore, the table is flexible, depending on the room.
The K-66 bumpers consist of rubber and offer consistency ball bounce and smooth-rolling.
For you to get the best shot, your pool table must offer plenty of room to set the cues.
It shouldn't be an issue since the EastPoint model has an overall dimension of 87 "x50″ x31."
Pros
Large design
Everything you need
Traditional pool design
Sturdy and flexible leg design
Durable finishing
Cons
Large, not suitable for small rooms
5. Thornton 7 Foot Billiard Game Room Table
The Thornton seven foot pool table is a luxurious addition to your home and recreation with a perfect size of 84″ x 48″ x 31″.
It's yet another sporting equipment from the popular brand MD Sports.
This table complements your room with its laminate finish and classic drop pockets.
These breathe an air of sophistication and authenticity to any room.
Get ready for a fun game with your family and friends since the Thornton comes with a complete set of accessories to kick off your game.
These include billiard balls set, table brush, triangular rack, two cues, and two chalk cubes.
The leg panel support system consists of a durable MDF reinforced with aprons for longevity.
You're guaranteed an accurate bounce since it comes with built-in K818 bumper rails.
The Polyester fabric on the surface ensures smooth shots and consistency.
Pros
Has an elegant appeal
Complete set of accessories
Durable leg system
Sturdy K818 bumper rail for an accurate bounce
Smooth shots and consistency
Cons
The corner edges are made of plastic material with a chrome coating
6. RACK Orion 8-Foot Billiard/Pool Table
The Rack Orion is a premium Billiard table for your indoor and outdoor pool experience.
This elegant piece of sporting equipment is well-built with an overall dimension of 96″ L x 53″ W x 32″ H.
There is a full set of accessories to get started and inside you'll find two cues, billiard balls set and two pool chalks
The table is heavy duty for a rough game and comes fitted with K66 bumpers made of rubber and a scratch-proof rail.
The drop pockets have a vintage appeal whereas the legs feature a leveler design to withstand any surface
Also, the leg design consists of durable material.
We love the one-inch surface MDF surface blended with quality wool. It is thick enough to guarantee a perfect ball bounce.
Pros
Classic drop pockets
Elegant appeal
Full set of accessories
Durable legs with a leveler system
One inch felt
Heavy duty
Ease of assembly
7. Triumph 89 Billiard table
The Triumph 89 features classic claw legs and drop pockets to bring an excellent pool game experience right into your home.
This unique design will complement your home with the green felt made of nylon material.
The feet have a level system that keeps the table stable irrespective of the ground.
You'll be happy with the purchase since the quality is good for the price.
Overall, unlike most tables made of wooden legs, this model is made of plastic, and therefore it's lightweight.
Setting up the Triumph table is easy since most parts are already pre-assembled.
Here, you'll find all the accessories that you need to complete your pool table game experience.
These are two cues, a set of billiard balls, a triangular rack, chalk, and pool brush.
Pros
Easy to set up
Beautiful green color
Vintage claw legs and drop pockets
Complete set of accessories
The level system keeps the legs stable
Cons
Plastic legs don't feel strong
[PROFESSIONAL]Best High-End Pool Tables In 2021
1. Barrington Claremont Slate Billiard Table Set
The Barrington Claremont is a high end eight-foot billiard table.
The model has a classic appeal, which is synonymous with pool tables from Barrington.
The legendary Queen-Anne legs design makes it the most sought billiard table.
The playing surface features a luxurious deep red felt with a 60% wool blend that adds a touch of elegance to your room.
Also, the surface consists of a thick slate for enhanced durability and smooth ball roll.
A game of billiards can be intense.
Therefore, you need a table that can hold steadily and allow for consistent play.
This model consists of heavy-duty construction with the rails and aprons consisting of sturdy wood that will last many years.
The K-66 bumper guards offer an accurate and consistent ball bounce, whereas the premium finish gives it an authentic look.
The set comes with all the accessories, and thus you can invite your friends and family for a quick game.
Pros
Has a traditional appeal
Felt with 60% wool for smooth ball roll
Sturdy construction
All accessories in a set
Beautiful addition
K66 bumpers ensure consistent bounce
Level legs for stability
Cons
Require professional assembly
2. Olhausen Billiards 8 ft. Belmont Pool Table
The Olhausen Billiard table consists of sturdy maple and fruitwood with an elegant matte cherry polish.
It's the ideal choice for your home entertainment.
The highlights are pearl diamonds, vintage drop pockets, and a startling Olhausen logo.
Unlike most models, the Olhausen allows you to choose the color of the felt cloth before installation, which is part of the purchase price.
The set comes with a set of billiard balls, cure rack, eight ball triangle, nine-ball rack, rail brush, and maple cues.
Sometimes a pool table game can be intense.
You'll be awe-struck by the quality of this table, which consists of sturdy construction as well as wooden aprons and rails.
Thus, you have a guarantee of long-lasting entertainment.
For a consistent bounce and smooth ball, the surface features a three-inch slate.
The table has a large support area so that your balls roll seamlessly.
Pros
Sturdy structure
A complete set
Vintage drop pockets
Beautiful finish
Three inches slate offers a good bounce
3. Valley Pool Table 88in - Black Cat
If you've been searching for a durable pool table, the Valley pool table has an overall dimension of 88 "x50″ x21."
Therefore it's a perfect size for your room venue.
This sports bar-style billiard table is slightly heavier than most models and has an overall weight of 605 pounds.
The construction is top-notch consisting of a one-inch aluminum slate and a padded rail bumper for consistency in ball bounce and durability.
It comes fitted with a stain-resistant cloth and adjustable leg levelers.
This table features a unique design with chrome coated and tapered edges and feet.
The surface features a deep colored laminate and ornamental flecks that will enhance your room appearance.
The bumpers accentuate the look of this table.
Pros
Unique design with tapered edges
Solid and sturdy
High-density bumpers
One-inch aluminum slate
4. Great American Monarch Home Pool Table - 8'
The Great American Monarch Home Pool Table will give your room, man cave, or garage a billiard feeling.
It is just like the coin-operated version only that it doesn't need money to play.
Of course, there are many options out if you'd like to have a personal hall. However, this magnificent piece will make your selection easy.
One outstanding feature is the one-inch slate, which makes this table an ideal cabinet set-up and a perfect way to spend some bucks.
The Great American Monarch is an eight-foot pool table featuring high-grade wood on the sides and the base.
These also add elegance to your structure.
The rails consist of durable material with plastic details that enhance its appeal.
With this pool table, you'll get a variety of options since you can request for Gold trim, cloth, or laminate.
It also comes with an enhanced ball viewer with a screw and a frame.
Pros
Has a one-inch slate
Durable rails
The surface offers a smooth ball roll
Gives your room a hall appeal
Gold trim, cloth or laminate available upon request
No products found.
5. Dynamo Coin-Op Pool Table
The Dynamo Coin-Op Pool Table is a high-end product for a business owner.
It comes with a set of accessories for a superior pool experience.
Although it has a small design, it has plenty of features to make it one of the best premium options on the market today.
The highlight of the dynamo pool table is the beautiful wooden design and a stylish finish.
It also features a green felt blended with wool for a smooth ball roll.
It has a sturdy structure with the legs made of flexible levelers to suit your ground needs.
The cue separator has a unique design.
The design helps to keep apart the big balls and magnetic balls.
The rails are exclusive "Death-to-the-Dead-Spot" for maximum gameplay.
The parts are coated with metal and plastic for longevity, while the lock pocket screws have rubber reinforcements.
The slate is large for an optimal experience.
Pros
Beautiful and classic design
Sturdy structure
Legs with flexible levelers
Metal coating for longevity
Large slate
6. Barrington Urban Professional Billiard Pool Table
The Barrington brand doesn't disappoint when it comes to the provision of high-end billiard tables.
The Barrington urban comes with a complete kit for a classic billiard game.
This elegant table is durable, comprising of a thick cover and high-quality drop pockets made of leather.
The frame consists of durable wood and pillars connecting to wooden connectors.
This model is stunning with its Birchwood coating and oak polish. The complement is the black felt and stylish leather pockets.
The legs have a concrete design with a touch of modernity, which will add luxury to your game.
This professional table also features a high quality felt bed with a wool blend.
The K66 bumper guards and premium cues allow you to play a smooth game of billiards.
Also, in the set, you'll find premium grade accessories such as a set of billiard balls, two cues, a triangular rack, chalk, and brush.
Pros
Classic pool design
High quality felt bed with a blend of wool
Legs have a concrete design for added stability
Stunning Brick wood
Accessories
Cons
The high price makes it suitable for business rather than recreation
7. Harvil 8-Foot Slate Pool Table
The Harvil pool table features an eight-foot, three-piece, and high-quality slate that will give you optimum ball control.
The felt consists of a 75% wool blend and 25% nylon, which are stain proof.
There are five different colors available, green, camel, grey, red, and blue.
This pool table features a contemporary design with cabinet quality wood and a matte-black finish.
The silver accents accentuate the table and add a classy appeal to your bar.
The wood rails are heavy duty and are made of six inches dense wood with ornamental pearl details.
The legs have a pedestal design for leveling and are chrome plated.
The table comes with a complete set of accessories to get you started.
These are a set of billiard balls, a cue rack, two brushes, billiard racks, chalk, PVC cover, shaker bottle, and tally balls.
Pros
Modern appeal
Felt comes in different colors
Felt has 75% wool blend for smooth ball roll
Heavy-duty rails
Complete set of accessories
Pedestal legs for leveling
Wrap resistant felt
Best Pool Tables Brands To Consider
There are several types of billiard or pool tables. Some with pockets and others without to suit the needs of billiard players as well as pool players.
However, with so many brands out there, it may be hard to choose the best brand.
Here, we'll focus on the top pool table brands for your consideration when shopping.
Barrington Billiard Company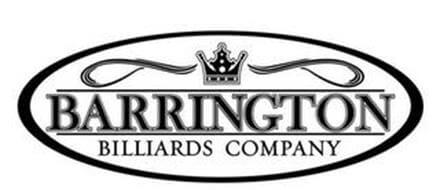 From our review, the best pool table brand is Barrington Billiard Company designs various types of pool and billiard tables.
Most of their products consist of heavy-duty construction for an intense game. The tables are long-lasting to provide limitless entertainment.
Their tables have a catchy appearance and superior slate construction, as well as their aprons and rails.
Their pool tables have K66 bumpers made of rubber for consistent bounce and unique claw feet design with a leveler system to withstand any ground surface.
Fat Cat Brand
Fat Cat is yet another top brand that designs high-quality pool tables and billiard tables. They are mostly suitable for home entertainment.
Their selection features moderately priced pool tables with a host of features for fun gameplay.
Their set also includes all accessories to help you get started.
Most of the tables have K66 rubber bumpers, sturdy rails, vintage drop pockets, and adjustable pedestal leg system.
MD Sports Brand
MD Sports is a popular brand renowned for the production of premium quality pool tables to suit different budget considerations of their clientele.
Their products spot a traditional design with eye-catching features that make them suitable for homes, man cave, or even garages.
Their tables have built-in K818 rubber bumper rails, and polyester felt with a wool blend for smooth shots and consistency.
You'll find all the accessories for your gameplay.
Olhausen Brand
The other famous brand is the Olhausen, which designs high-end pool tables for intense gameplay.
Their tables are sturdy, consisting of durable wood, aprons, and rails.
Their three-inch slate is large and warp-resistant and provides a consistent bounce, and the ball rolls smoothly.
Great American Monarch
Great American Monarch is yet another brand that designs high-end pool tables. Most of the options are coin-operated and are suitable for business.
However, some may look like the coin-operated only that you won't need money to operate it.
Types of Pool Tables
The selection of a pool table depends on whether you'd like a pool table for home entertainment or professional play.
Each selection also depends on how much you'd like to spend on the purchase.
Quite often, home entertainment units are cheap as compared to bar pool tables or professional play.
Budget Pool Tables
Budget pool tables are more like imitations and not real pool tables. They are inexpensive and ideal for recreation and fun play.
The structure is mostly sturdy plastic, whereas the felt consists of fiber and substitutes.
Mid-tier Pool tables
Mid-tier pool tables are high-quality brands for competitive play with a price range between $1000- $3000.
They're high performers due to their premium features such as leveled legs and a felt bed.
Everything about them has a vintage appeal from the wood veneer to the drop pockets.
Professional Pool Tables
Professional pool tables are premium quality since they're for leagues and competitive play. These are expensive and may cost anything above $3000.
They're made of high-quality wood and have a thick slate with a high percentage of wool blend. The ball rolls smoothly, and there's consistency.
Another unique feature of these tables is the coin box, whereby you can only play after paying.
Their legs are adjustable with a pedestal design that can stand on any ground.
Tabletop Pool Tables
The tabletop pool tables are suitable for home play for small children and teens. Typically, you'll place them on top of the table and are easy to set up.
They are reasonably cheap and are a great way of introducing your kids to a game of billiards.
Combo Pool Tables
You can convert the combo pool tables to play other games such as hockey and pool. Combo pool tables serve the needs of everyone.
The combo is a multi-game pool table for whole family entertainment.
Also, it breaks the boredom of playing one game only and saves you money.
Features to Consider When Buying a Pool Table
There are several features that you need to consider when purchasing a pool table.
Below here, we dig into these qualities that will make your selection hassle-free.
Purpose
The market has all manner of pool tables, and this might confuse you, especially if it's your first time.
The primary factor to consider is the purpose or the goal of buying the pool table.
Several questions will need answers before you purchase the pool table. Are you buying for recreation or fun play at home with family and friends?
Or do you need one for your kids? Another question would be if you'd like a professional pool table for tournaments or competitive leagues.
Once you settle on your objective, then it's easier to pick one that will suit your needs.
Budget pool tables are ideal for recreation and fun play. Consider picking tables whose price falls below $1000.
For leagues and tournaments, these are pricey and usually cost above $3000. However, you can still find mid-range pool tables for competitive play with friends.
These are also ideal for use as bar tables for business. Combo pool tables serve the needs of fans who'd like to play different types of games.
Brand
Pool tables are easy to identify, depending on their respective brands. They're some brands that have been designing high-quality pool tables for many years.
Some of these include Fat cat, Barrington, MD Sports, and Olhausen.
The advantage of buying from top brands is that, although they're pricey, they also have budget options depending on your needs.
Body Frame
From our review, the quality of the frame is an outstanding feature to consider.
Hardwood, such as mahogany, brick wood, and maple, make the best frame that will endure many years of play.
Instead of glue, frame support helps in securing the pool.
A deep vibrant color that's scratch resistant gives the pool table a sophisticated and classic look.
Wood is durable and offers first-class elegance and boosts the appearance of your room.
Sturdy legs
The best pool tables have adjustable and inbuilt leg levelers for improved performance. The table can adapt to any type of surface, and therefore the ball doesn't roll in any direction.
The legs must be sturdy to support the cabinet and extra weight of the players when they shoot the ball.
The best types are one piece since they are made of solid wood and don't require any assembly.
Sturdy Rails, Dense Cushions, and Drop Pockets
A pool table has rails around the edges with the top part made of hardwood, and the outside part is the apron.
From our review, rubber bumpers such as K66 offer the best rebound and will last many years as opposed to synthetic options.
Wooden rails provide the best support to the pool table.
Deep leather drop pockets have a vintage appeal and are ornamental.
Lightweight
Pool tables are heavy pieces of furniture, and you may need an extra hand to install or move.
However, for home use, you can consider the weight and choose a lightweight option.
Felt bed
The felt bed is a tightly woven piece of cloth made of nylon and wool blend. It offers a smooth surface for consistent ball roll and allows players to make accurate shots.
The high-end pool table has a high percentage of wool, unlike the budget options. This feature helps in maintaining perfect speed or angel.
Thus you can showcase your skills will confidence.
Support braces usually help in preventing wrapping. The ideal slate should be three pieces of one-inch thickness.
Ease of Assembly
Most often, pool tables come with set up instructions.
Budget options are easy to install since the instructions are simple and straightforward.
However, for the high-end pool tables, it's essential to get an extra hand when installing.
Most often, you'll need a professional to set it up.
Accessories
Your pool table set up isn't complete without all the accessories to help you get started.
These include a set of billiard balls, a triangular rack, cues, chalk, and a cover.
The Difference between Billiard Tables, Pool Tables, and Snooker Tables
Billiard tables, pool tables, and snooker are the same. However, the game depends on several things.
The games are distinct depending on the balls, table, pockets, cue stick, and more.
When playing billiards, there are no pockets on the table. You'll have three balls, a red ball, and two white balls.
When playing pool, the table has six pockets and between nine to fifteen balls.
There's also an extra cue ball.
You can choose the balls depending on the type of pool table.
On the other hand, snooker has six small pockets, and the table is larger when you compare to standard tool tables.
There are fifteen pink balls without numbers, six object balls with numbers, and one cue ball.
FAQ About The Best Pool Tables
What is the best brand of pool tables?
The best brand is one that designs sturdy and high-quality pool tables depending on the player's needs.
Some of the remarkable brands out there include Fat Cat, Barrington, MD Sports, and Olhausen.
Are wood top pool tables any good?
Wood top pool tables are the best since they offer a smooth surface for the ball to roll.
Wool is also beautiful and ensures perfect speed when the ball is rolling.
How far should a pool table be away from the wall?
It's crucial to install the pool table at the middle point and leave some distance from the walls.
Ideally, a five feet distance gives you adequate room to position, take the right angle, and shoot. In this case, the cue stick shouldn't hit the wall.
Simple or Ornate design?
Pool tables come in different designs. Some are traditional, while others have a contemporary look.
Even though these are game tables, they're pieces of furniture that add style and elegance to any room.
A simple design might look too dull in the room. However, that wouldn't be a problem for a portable or tabletop pool table.
But for installations, it's essential to consider the design. Preferably, an ornate design gives the table a traditional appeal and accentuates your room.
Some of the vintage features include French-style drop pockets and Queen Ann or Claw feet leg design.
What size pool table is best?
The ideal size of a pool table is eight-foot, which is common and fits in most areas. You can quickly upgrade your skills by playing the eight-foot.
Also, playing a 7 foot or 9 foot will be easier. Large size is ideal if you have more space, and it also gives you better gameplay.
Are slate pool tables better?
Slate is common in high-end pool tables. It offers a better playing surface, is durable, and most common in competitions.
The advantage of slate is that it gives a superior ball roll and enhanced play.
Are outdoor pool tables any good?
Outdoor pool tables break the indoor routine and give you a chance to play in an open space.
However, the outside environment can damage your pool table, especially if you expose to moisture. Ensure your outdoor is dry and calm.
Some materials like wood need proper care to last long. If you must play outside, get a waterproof pool table.
A polyester material withstands chipping or cracking.
Is a 7-foot pool table too small?
A 7 pool is not too small if you're considering one for recreation, casual or fun play. Also, it's ideal for training, especially for kids or teens.
However, if you need a pool table for competitive play, a 7 inch is too small and will not let your skills shine.
How do you set up a pool table?
Setting up a pool table requires an extra hand.
Start by placing the four legs under the pool cabinet. Screw the bolts using your hands to join the frame and the legs.
Use an electric drill to tighten the bolts. Next, place the slates on top of the frame.
Using the drill, screw the slate to the frame. Place the pre-cut wool blend cloth on top of the slate tightening to the rail.
Use a staple gun to attach the cloth to the slate. Ensure the cloth is tight, including the pocket areas. Cut the hanging edges for the pockets and tighten.
Place the pre-assembled rails on top of the table. Align the bolt inserts to the pocket holes. Using an electric drill, join the rails to the frame using bolts.
If the table has blind rails, attach using a screwdriver.
Conclusion
Whether you want a pool table for professional play or recreation, there are several out there to buy.
However, before parting your money, it's essential to set your goals first and find the best that suits your needs.
Your best pool table choice should be durable, stable, and offer the best gameplay experience.