One thing is certain, there's a lot of junk out there.
And you certainly do not want to fall for those cheaply made electronic dart boards.
But, no need to worry, I got you covered.
Here are my top 3 picks for the best electronic dart boards at every budget level:
Viper 777 Electronic Dart board (Budget Choice)
Arachnid Cricket Pro Tournament Dartboard (Best Value for money)
Gran Board 3 Bluetooth Electronic Dartboard (Premium Option)
Choosing the right electronic dart board that can fit your budget and still deliver a good value for your money can be challenging.
There are a lot of options out there.
But, don't worry.
I went and did an extensive research on all of the available electronic dart boards brands.
The result is this buying guide here in front of you.
We update this list often so all reviews are valid at the time of you reading this.
Let's jump right to it.
Best Cheap Entry-Level Electronic Dart Boards In 2021
1. Viper 777: Best Budget Electronic Soft Tip Dart board
Are you thinking of having a little dart tournament with a few good friends? This durable Viper 777 dart board set is ideal for your use.
The regulation size target face and crystal-clear LCD display that keeps track of your scores make this dart board set efficient and convenient. The ultra-thin spider feature is a real winner. It increases your chances of getting the best shots while reducing bounce outs.
Should you miss, there's an enormous missed dart catch ring included in the package. It will protect your beautifully-painted walls. This set also has a place for holding the soft tip darts.
And there's more! Prepare for a competitive and long hours of dart games with this game set that includes 43 games with 320 options!
Don't forget to invite your Spanish friends over too. The dartboard has a bilingual option specifically for Spanish and English speakers. Bottom line, this dart board is, in my opinion, the best entry-level electronic dart board that money can buy. Totally recommended.
Main Features:
Ultra-thin spider feature for the best throws and reduces bounce outs
43 games with 320 variations
Has a bilingual option (English and Spanish)
2. Fat Cat 727: A solid Budget Electronic Dart Board
The Fat Cat 727 electronic dart board is perfect for a weekend entertainment with friends or family. To operate, you should get 3 AA batteries as there is no plug for the AC adapter.
Albeit it doesn't have a place for storing the darts, it does include a plastic bag that serves as a catch ring. That way you are able to protect the walls.
Although only recommended with soft tip darts, using this dart board set still spells fun. This model is also ideal as gift for your kids with its 13 inch target face. It features a maximum of 18 games with 96 different variations.
It comes with free darts and a manual for game instructions especially for beginners. It also keeps a score eliminating the need of a pen and paper for scoring. Overall, it's a good dart board with the basic features.
In overall, it's a nice dart board that will do the work. The price is really low compared to other choices you have in the market. That's why, the price-quality ratio is excellent. You get a good value for the money you're paying.
Main Features:
18 games with 96 different variations
Comes with 6 free soft darts
Includes a catch ring for missed throws
13″ target face
3. Best Choice Products Electronic Dart board Game
Enjoy more hours of dart games with the Best Choice Products new electronic dart board. This dart board has an electronic LCD display that monitors the entire team's cricket score for each game. You can invite seven other friends as 8 players are allowed to play on this dartboard.
With 27 unique games (including the popular cricket games) and 216 variations, you will be entertained all throughout. It's affordable and you can use it with batteries or by connecting it to an AC outlet.
This game set is perfect for your home or as a gift for a trusted friend. Let them throw in their bullseye with the Best Choice Products Set.
This is an excellent dart board set with an insane price that makes this product even more desirable. I recommend it for people with tight budgets.
Main Features:
27 games with 216 variations
Comes with 12 darts in 2 different colors.
Lets you save energy with its sleep mode feature.
Best Mid-Entry Electronic Dartboards In 2021
1. Arachnid Cricket Pro 650: Best Electronic Dart board with a screen
The Cricket Pro 650 may be the only dart board that you will need as it features NylonTough Segments built to last for several years. It's made with high-quality materials and very responsive sensors.
Nothing can match its accuracy. And are you competing against an advanced dart player? Don't worry, this game set includes a Handicap Feature that will make it fair for players.
This board allows for up to eight people in 4 teams can play the Cricket Pro 650 and it does have the 4-player score display too. 24 games with 132 variations will be enough for a few hours of dart tournament.
This model also communicates with its players by calling out who's turn it is to throw. It also has a solo option and a place for storing darts.
The Cricket Pro 650 has a 15.5 inch target face with a catch ring for wall protection. It has an LCD Display that eliminates manual scoring.
It basically includes all the best features with the best price. I do believe that this board is the best electronic dart board that you can get for less than 200$.
Main Features:
Handicap Feature for competitive playhing
24 games with 32 variations
Has a solo option and talks to players by calling out someone's turn to throw
Includes a NylonTough Segments for longer use
Highly responsive sensors for accurate scoring
2. Viper 800 Electronic Soft Tip Dart board
Ideal for bigger get togethers over dart games, this Viper 800 Electronic Dart board is the real deal. Up 16 players can play about 57 games with 307 options.
The clear and crisp LCD display will make scoring highly convenient for players. You can even select between red, black and silver for the color schemes.
This model is durable and tournament-quality. It features large target face with a large catch ring and a state-of-the-art laser beam that marks your throw line accurately.
This extremely convenient dart board doesn't need batteries as it's operated by power supply adapters. It also tells you whether you hit a single, double or if you miss.
It's actually a solid board that is both durable and has a lot of advanced features.
Main Features:
Up to 16 players
Can choose between 4 different color schemes
15.5″ target face
A laser beam for marking the throw line
Can be operated by both adapter and batteries
3. Viper Solar Blast Electronic Soft Tip Dart board
Built for serious dart players, the Electronic Viper Solar Blast provides hours of entertainment with its 43 games and 187 variations. Up to 16 players can play with this regulation-sized board.
It's highly durable; ideal to last for several years. You don't need to buy batteries so long as you have power supply.
With the ultra-thin spider featured on this board, you're sure to reduce or better yet, completely eliminate bounce outs.
Main Features:
Ideal for heavy play
15.5″ in size
Commercial-grade nylon segments for its efficiency
43 games with 187 variations
Up to 16 players
Can store up to 12 darts
Best Premium Electronic Dart boards In 2021
1. Gran Board 2: Our recommended high-end electronic dart board
Technology enthusiasts will love the stylish Gran Board Bluetooth Dart board as it runs on both IOS and Android.
They use a Smart Bluetooth Technology to connect the app to the board. All the details are saved and can be accessed on a large database.
If you want to know your progress, just access the app. This dart board set is extremely easy to set up and can be powered by batteries.
Main Features:
App driven; both IOS and Android are compatible
Scores and other details are saved on a database
Ideal for homes with its stylish design
Completely wireless; just use 2 AA batteries
Uses Smart Bluetooth Technology
It is a regulation size board
2. Arachnid Cricket Pro 800 Electronic Dartboard
The Arachnid Cricket Pro 800 is what every beginner and advanced dart player needs. It is ideal for tournament and heavy play as well. Arachnid series are probably one of the most successful electronic boards series ever.
This dart board here features dart averaging that will let you monitor and evaluate your throws. You'll definitely know if you're getting better at playing darts.
Additionally, players will be more motivated to keep going with the 3 Level Heckler Feature that applauds great throws! This can be turned on and off.
The board comes with four crystal-clear LCD scoring that is ideal for multiple teams. No need pens for scoring. It also enters a sleep mode when no one uses the board.
Main Features:
39 games with 179 variations
3 Level Heckler to motivate players
Dart Averaging to better monitor games
Exceptionally durable as its made with NylonTough segments
Sleep and Reset Mode
Regulation-sized board
3. Arachnid Cricket Pro 900: Another amazing Electronic Dart Board
Whether you're buying dartboard for home or business use, this set is ideal. It's built for both and will last for several years.
It includes 8 new games and a voice prompt that announces player scores. When you buy the Cricket Pro, all you really need to do is play.
The dartboard pretty much does everything including applauding you for the best throw.
The materials used to built the board are durable enough for heavier plays. Invite 7 of your friends for a friendly dart competition. You may add in a few cold bottles of beer to make it more fun.
Main Features:
Includes 8 new games! 48 games in total.
A prompt to announce scores and tells whose turn is it
3-Level Heckler to applaud dart players
Ideal for your bar or game room
NylonTough Segments for a durable board
Comes with sound effects
Electronic vs. Bristle dart board: Which is the best for you?
A bristle dartboard is one of the most common types of dartboards. It is usually made of sisal fibers and a metallic ring that holds the edges together.
The fiber ensures that the dart that has a steel tip that can penetrate the dartboard.
One of the benefits of this type of board is that it lasts longer, without requiring any form of maintenance.
But its durability can be affected by weather elements such as sunlight or moisture.
With time, the fiber content also starts fading.
An electronic dartboard comes with small openings where the dart enters.
The main benefit of this dartboard is that it allows you to track your score easily.
It also comes with a wide range of preloaded dart games. The main disadvantage of this dartboard is that it can't last as long as a bristle dartboard.
The choice you make will depend on your needs. The electronic dartboard is suitable for beginner players.
However, if you would like to go pro, choose a bristle dartboard.
Buying Guide: How To Choose The Best Electronic Dart Board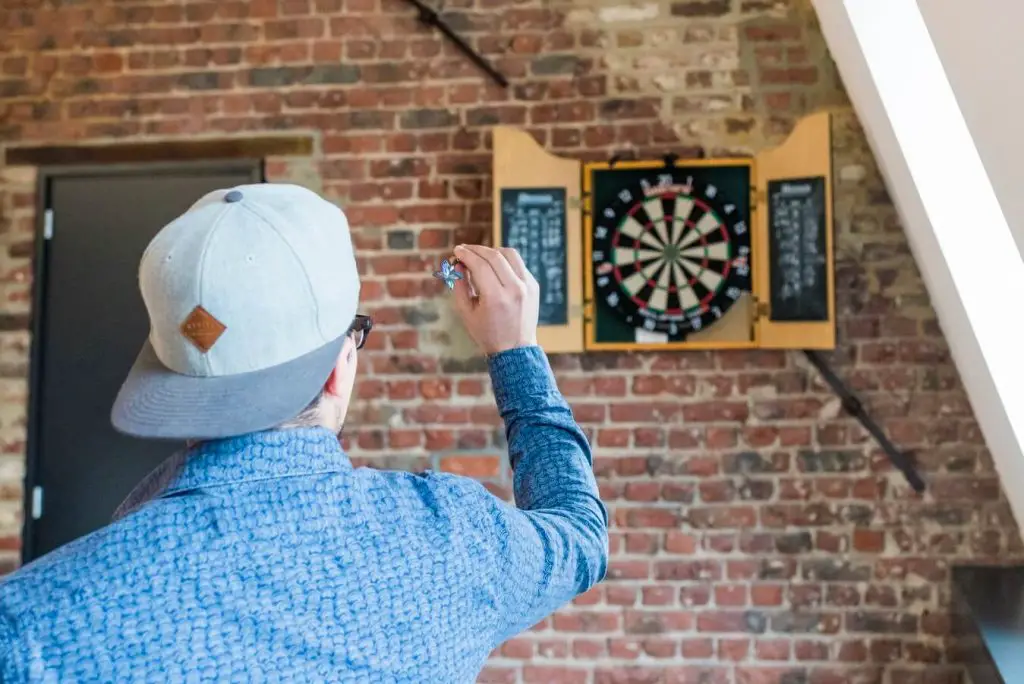 There are several factors to consider when buying a dart board.
If you are looking for a coin-operated or commercial dart boards, check our guide
First, ask why you want to play darts and who will be playing. Do you intend to join a tournament or is it just for recreational activity? Have you ever played darts before?
First timers may consider buying a budget dartboard for practice. Then consider getting a new one when they become better at it.
The size is one factor to consider. Do you want to play like a pro? You should opt for the 15.5″ regulation size boards.
However, if you're buying an electronic board for kids, you would want the extra large boards that are easier to play.
How many players are playing?
You don't need a dart board with up to 16 players if you only need a board with eight players.
Buy the 16-player dart board only when it includes extra features that you can use that's not included in an 8-player dartboard.
Power Source and Sound Effects
Some electronic boards will only require batteries and others with power supply. Choose one that is more convenient for you.
For many electronic dartboards, they come with integrated sound effects that call out players and produces different effects depending on the situation.
Others have LCD displays for scoring while some don't really provide that feature.
If you don't mind doing things manually, you don't need these extra features.
Pre-loaded Games and their Variations
One of the things that make an electronic dart games interesting is that they come with a wide range of games pre-loaded in them.
Some of the popular pre-loaded games include:
Cricket: The cricket games that are preloaded in an electronic dart game include scram cricket, cutthroat cricket, and the standard cricket.
Round the clock. This is a game that involves two players trying to hit the numbers as they follow one another on the board until they have gone through the whole board
01 games. In this game, players begin with a particular score such as darts 301 and play down to zero. The player that reaches zero first is the winner.
On top of the above, there are many other preloaded games and their variations in an electronic dart game.
Therefore, consider the number of variations that you need in your electronic dart game. But take note that dart boards with more games will often be more expensive.
LCD vs. LED display
Usually, electronic dartboards comes with a variation between an LED and an LCD.
The display shows different elements such as the name of the player, the score and much more.
When choosing a display for your electronic dartboard, you may want to go with an LED display.
An LED dart board is easy to read, more vibrant and is aesthetically pleasing.
The board often comes with functionality that shows the players, scores, and details of the game. An LCD may be duller and harder to read.
Warranty
Any manufacturer who makes a good quality board should stand behind the product by offering a reasonable warranty.
The longer the warranty period of the electronic dartboard, the longer the product is likely to last.
Take note that different dartboards have a different warranty period.  Some have a one year warranty period while others have a two years warranty period.
Therefore, be sure to check the warranty period and what the warranty covers.
How do you maintain electronic dart boards?
For your electronic dartboard to last for a long time, you will need to maintain it well.
There are a few ways in which you can do that. These include:
An electronic dartboard will be damaged by water. This is why it is advisable to store the dartboard in a cool, dry place.
Put it in a cabinet where there are fewer chances of spills.
Pro tip: You can buy yourself a dart case to protect your tip darts and extend their lifetime.
Cleaning the electronic dart board
If there are stains on your electronic dartboard, you should clean it using an all-purpose cleaner.
First, remove the dartboard from the wall, and switch it off. Remove the batteries too.
You should then put the cleaner on a piece of fabric and wipe the dart board starting by target area.
The dartboard shouldn't be sprayed directly with the cleaner.  Avoid using a cleaner that has ammonia as it can lead to damage.
Don't use water to cleaner. Ensure that as much debris is removed from the board dips and crevices.
After you have cleaned it using the cleaner, flip it upside down and place it on a table for an hour or two to dry.
You can learn more about how to maintain your electronic dart board on this video below:
Protecting the wall behind your dart board
Well, a common issue you might face when owning a dart board is that the walls surrounding your dart board may be damaged by the darts you keep throwing at them when you miss.
To solve this, you have two options basically. The first is to get yourself a cabinet that is wide enough so that darts do not end up hitting your wall. This is the expensive route.
The second option, which I would recommend, is building a custom solution using wood or some other materials to protect your wall. For ideas, we wrote this article to show you how you can protect your the wall behind your dartboards.
FAQs About Best Electronic Dart Boards
Which type of darts can I use with electronic dart boards?
The best darts to use with an electronic dartboard are usually soft tip darts.
How long do dart boards last?
Electronic dartboards will often have a lifespan of around two years.
Can you play online with an electronic dart board?
Today, we have dart boards that allow you to play online. One of these options is Darts Connect.
This dartboard allows you to play against some of the best players in the world online.
Now, what's next?
I hope I made everything clear here.
Those are my final recommendations for reliable electronic dart boards that you can buy in 2021. I'll make sure to keep adding more boards if I ever encountered anything that is worth knowing about.
Improve your darts accuracy by following these tips
For now, if you have any question about any of the things I mentioned above, let me know in the comments below. I'll make sure to answer every comment with as much details as possible.
I can even help you choose the right electronic dart board for your situation if you let me.
Otherwise, please share this guide (or not) with your friends if you liked it.