Let's face it. Staying healthy and fit requires individual effort. You've to indulge in various physical activities willingly.
This is a sure way of preventing chronic illnesses such as diabetes and hypertension that have been on the rise in recent years.
You will also help your body enhance its immune functions, thus improving general wellness.
And if standard workout routines bore you, you can always indulge in some wellness games and activities, whose results are equally impressive.
Here is a list of the top 20 wellness games and activities to consider if that's the case.
Games and Activities That Require Gear
Cycle around the hood or at home
Cycling is one of the best ways to pass time, have fun, and burn a few calories. If you live near a park, you can mobilize a few friends to join in or dedicate it solely to family activity. You can even compete and treat each other.
However, if riding across town seems like a bad idea, you can still train in your back yard or even indoors. It's a great starting point if you're a beginner and need some guidance. If you've some cash to spare, a home trainer will come in handy.
For this sport, you will need a good bicycle and riding gear.
Dart Throwing
Darts are fun to play. Be it at home or in the office. The game is suitable for all age groups, so you can include it in your bonding time with family and friends.
You will need a dartboard, usually randomly labeled number 1-20, and a dart. The game is simple to play, with players required to throw the dart at different areas of the dart. With each landing location, players accumulate points, which determine winners.
Although there isn't much physical activity in this game, it enhances hand and eye coordination.
Playing darts also boost the brain function as one is expected to think on their feet, and general physical control, among many others.
Backyard/Indoor Basketball
The good thing about basketball is that it can be played both indoors and outdoors. The game is full of action, with players expected to demonstrate their best shooting skills.
You will need a good ball and an indoor basketball hoop to get started. Also, you can consider basketball arcade.
If you don't have cash, get creative with a bucket.
Apart from the fun part of it, you gain from a full-body workout.
Skateboarding
Yes, you might be stuck indoors, but that shouldn't prevent you from having some fun and exercising your body. If you've been planning on skateboarding, this is the time to try it out.
Buy a skateboard, and use your basement as your practicing ground. Of course, this is possible if it's made up of cement. You will be in awe of how the skateboard will slide by with ease. You can do this as a family when you're sure, no cars will be disturbing you.
Some of the health benefits of skateboarding include; whole-body coordination, enhancing your pain tolerance, and relieving stress.
Table Tennis
If you love indoor games, table tennis should be on your try list, especially if you want to gain some health benefits while at it.  Although professional games require a table tennis table, you don't have to own one in your house to play. Get creative with your dining or living room tables, and get playing.
You will, however, need a roll-net to attach to the sides of the table.  If you're alone, you can avoid the whole table setting and use the wall instead.
Most individuals think table tennis is an easy game and doesn't benefit the body that much, but they're all wrong.  While playing, you get to work on your hand and eye coordination skills, improve reflexes, burn calories, sharpen your mind, enhance your overall balance, and of course, increase your social skills.
Table tennis is a go-to game for individuals with joint issues/injuries as it goes pretty easy on the joints.
Another thing to mention here, you can actually buy a multi-game table that can have table tennis and another game like pool or air hockey all in one table. You can check out our best picks here.
Football (or Soccer)
Football is an all-time favorite sport for most people. It's easy to play when no restrictive rules are involved and played in big and small spaces. So you can set up a backyard football play area and get the family busy.
It would be best if you had quality football, a scoring area, and you will be set to practice your skills.
Some of the many benefits of playing football include: enhancing muscle strength, burns body fat, tones the body, boosts cardiovascular health, and is an excellent way to enhance your aerobic capability.
Another idea might be to get a foosball table, it's not really like soccer but it's a lot of fun.
Hula Hooping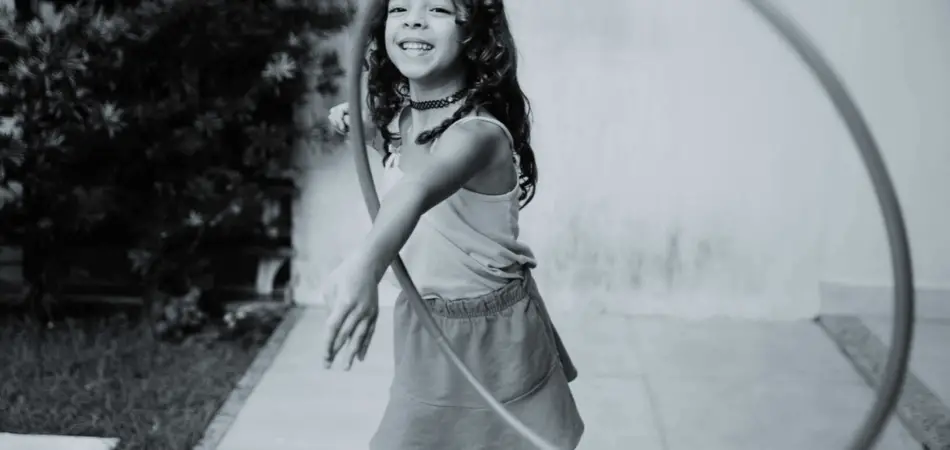 Although a hula hoop is a simple tool that doesn't take up much space or require a large area to play, it's so much fun. The game makes an excellent addition to your fitness schedule as it offers impressive workout benefits.
Besides, there are various Hoola hoops in the market, which aren't expensive and can be used by individuals of all ages.  Learning isn't difficult, either. If you're dedicated, you can show off your skills to family and friends within no time.
If you've been holding yourself back from learning this wonderful sport, here's a list of some of the benefits you've been missing out on:
Speeding the burning of calories and body fat
Enhancing cardiovascular health
Boosting your general body balance and working on your lower body muscles, among others.
Horse Riding
If you love animals and horses, to be precise. It's time you consider horse-riding not only for fun but also as a workout activity.  You realize that spending time with your favorite horse is very therapeutic. It eases stress and improves your mood.
Also, riding a horse helps you improve your body posture, maintain balance while on the move, which strengthens your core muscles.
The best news is that you participate in the horse riding game as a professional and fun with family and friends. All you need is a willing horse, teachable spirit, and you will be walking into your life long wellness journey within no time.
Remember to invest in god horse riding gear for safety purposes.
Squash
Like basketball and football, squash is a full action game. It will get your heart pumping fast. Be ready to run, dive, and even leap. The faster you're, the better.
Don't worry, though. If you're starting and don't have as much speed, you'll master over time and enjoy the sport full blast. Improved body coordination and reflexes are some of the fantastic benefits you can gain from this game.
Dodgeball
With dodgeball, you'll need two teams to play. As you throw the ball at the opposing team, trying to get them out, your hand, leg, and core muscles will be at work. Also, your brain function needs to be alert for a perfect aim.
You can try as many rounds as you want. Your teams will benefit from improved team-building skills, high concentration levels (as mentioned earlier), and increased agility, among many others.
Kayaking
If you live near a water body, you have all the chances to enjoy and benefit from Kayaking. Paddling through the waters is the best way to take your mind away from daily stressors.  You will be happy at the sight of the parting still waters.
Unlike canoeing, which tends to be a little complex for beginners, Kayaking is easy to master. You can do it on your own or with family and friends.
However, remember to put on a lifejacket. Other than that, have fun.
Most of the benefits of this activity focus on improving your upper body strength. But you also get toned legs, strong core muscles, and good health for your heart. There're so many other uses that I will encourage you to find out.
Golfing
Golf is an awarding activity for upper and full-body workouts. So if you're still in perfect shape, you can enjoy the full swing game. But even if you find it too much, mini-golf is a great way to unwind and socialize.
Golf is a versatile game, which allows players to adjust according to their physical preparedness. You can even include a golf cart for transportation between the holes if too much walking isn't good for your health.
Archery
With a backyard or some sufficient space in the hallway, you can try archery. There are so many ways to enjoy this game, including aiming into the basket and much more.
Your body will benefit from improved focus, great hand and eye coordination, and enhanced upper body strength. Besides, you also get to socialize and build your confidence.
Drum Playing
Drums, like any other musical instrument, require practice. As you train and master various skills, you enhance your memory and improve coordination.
Also, drumming eases stress, boosts confidence, and the immune system.
Games and Activities That Do Not Require Anything
Jogging
Running is a highly beneficial activity. But if you can't keep up with the pace, you can opt for jogging and still be great.  Although most individuals prefer jogging in the mornings or evenings, there's really no restrictions on what time you can try it out. So long as the weather permits, go for it.
One of the widely known benefits of jogging is its ability to build up stamina. But that's not all. If you jog regularly, you will help your body maintain a healthy weight, strengthen muscles and bones, and boost cardiovascular fitness.
You, however, need to remain positive and consistent to achieve outstanding results. Why not try out playing some cool music while at it?
Dancing
Can you dance? Of course, everyone can dance, depending on how you look at it because even simple body movements can pass off as a dance!
But on a serious note, dancing is a great activity that you can try almost everywhere. All you need is good music and a willing spirit to get the best out of it. If you've a busy schedule, dedicate a few minutes of your morning/evening rest session to dance. It could be as little as 10 minutes to as long as 1-2 hours.
A good dance will leave you sweating, mentally refreshed, and happier. Take a cold shower afterward, and you will enjoy a restful sleep (well, if at all you're dancing right before bedtime)
You can choose to dance alone, or in a group of family and friends. Also, join a dancing contest if you want.
Yoga
Yoga has been around for ages. And it still doesn't get old as more and better techniques are introduced over time. The best thing about this activity is that it doesn't require much space. It would help if you had a flat surface, a mat (not a must), and you are good to go.
Recently, so many things have been going on, and with the hectic lifestyle, you can get frustrated. To ease and calm your mind, activities like Yoga come in handy.
You can do it anywhere, at whatever age, and irrespective of your fitness goals. Apart from calming your mind, Yoga enhances body strength, balance, and flexibility. It relieves unbearable back pains, is good for your heart, boosts your mood, and can relieve severe arthritis symptoms.
Swimming
If you have a home pool or can easily access one, swimming is one of the simplest and most beneficial activities you can indulge in. The water is refreshing on a hot day. And besides, it's applicable for individuals of all ages.
So what's stopping you from taking/joining your family for a swimming session? You can even compete if you like.  This excellent water exercise enhances your endurance, boosts muscle strength, and increases your heart rate for better cardiovascular fitness.
A good and regular swimming session will help you maintain a healthy weight, tone your muscles, and ensure your lungs and other internal organs are in good shape.
Nature Walk
Nature is beautiful. There's so much you can admire and learn from your environment. If you live in a large community with acres of land and attractions to explore, you got enough excuse to get out there and stroll around.
You will have so much information to store, thus improving your memory. Exploring also reduces anxiety, and the sights will keep depression away. And if you plan on getting into sports, a mere walk can boost your athletic performance.
So the next time you say, "it's just a walk", think again.
Mountain Climbing
If your body is screaming adrenaline, mountain climbing is an activity that can offer you that, and much more. It's an amazing outdoor sport, which you can participate in with your family or join a club.
Some of the immense benefits of mountain climbing include improved cardiovascular activity, boosts fat burning, enhances body endurance, and improves muscle strength.
Conclusion
The above list isn't conclusive. There are many other games and activities you can indulge in to boost your body's general wellness.
The secret is to select sports that allow you to have fun because self-motivation is critical in achieving results.