There's a wide variety of backgammon sets in the market today. There are leather sets as well as wooden backgammon boards. There are high end as well as cheap backgammon sets.
Thus, choosing the right set for you can be overwhelming. Luckily, this guide will make things easier for you.
Since it can be time consuming to do the research yourself, I've done it for you and came up with this list of the following backgammon boards that I believe to be the best backgammon sets in 2021.
If you're in a hurry, you can just see this table below that summarize this whole guide.
Best Wooden Backgammon Sets In 2021: Detailed Reviews
Middleton Games 18: A Luxurious Wood Backgammon Set
If anyone intends to buy a backgammon game set for the mere purpose of carrying around a cool-looking game set, then this is the board to go for.
The unique exterior surface of this game set features a classic old-looking world map which gives this set an elegant, classy look with a solid and sturdy feel.
Besides the map, the edges of the case also have leather strips with strong, neat stitching to complete off the look. The playing surface on the interior of this game set features a faux-suede finish that is ultra-plush and very smooth to the touch.
The best backgammon sets always come with pleasantly hefty playing pieces, and this one does too. The extra thick checkers and the over sized doubling cube feel practical and are comfortable to play with.
The game set additionally comes with leather dice cups also featuring the classic world may design on the exterior.
With this game set, you get to enjoy the benefits of a luxurious set but without the price point of very premium sets. This is just the ideal backgammon game set for players who are looking for something unique, classy, durable, and high quality while still being relatively affordable. A
ll in all, this backgammon board is the best value for money wood set you can get in today's market.
Yellow Mountain Imports 15: Mid-entry Wooden Backgammon Set
The first striking feature that draws you to this game set is the elegant, eye-catching wood inlay on the exterior surface.
The same wood inlay has been used on the interior of the game set, and that combined with the high-quality craftsmanship give rise to a set that is aesthetically pleasing, and this consequently enhances the playing experience.
Additionally, this folding board is conveniently portable, and it also comes with storage compartments for the accessories.
The strong and durable wood frame ensures that the set will not get damaged or dinged up when carried around in a bag and it also has hidden inset magnets to shut the board securely when in transport.
Similar to most of the luxurious backgammon sets, this one also comes with plenty of accessories including 30 checkers, 4 dice, a doubling cube and 2 dice cups.
The dice cups are made from wood and do not come with any lining inside, this might result in quite a bit of noise while playing, but it is not so much that players will be unable to enjoy the game.
The playing checkers, on the other hand, are made of plastic, but they are surprisingly dense and durable.
GrowUpSmart Classic 14 Wood Backgammon Game Set
Backgammon is a board game that is almost as old as time, and the retro design of this set by GrowUpSmart guarantees that players will experience the classic feel of the game, as they should.
To begin with, this set is made from premium materials similar to those used in making the luxurious backgammon boards. It also employs exquisite workmanship so that players can be assured of investing in a high-quality product that is sturdy and durable.
The fine wood used provides a smooth playing surface and results in a long die spin, thus enhancing anticipation while playing.
At just 14", this playing set is the ideal size for players looking for something small and portable, yet still, function. Being a folding game, this set can be carried around conveniently in a backpack, letting players have instant fan anywhere and at any time both indoors and outdoors.
Perhaps the only thing that needs changing is that the dice size can be increased to be regular size dice because as it is currently, the dice are a tad too small and unnecessarily so. All in all, though, this backgammon set looks sleek and elegant and comes at a great price point thus making it a definite road trip necessity.
Best Leather Backgammon Sets In 2021: Detailed Reviews
Silverman & Co. 19 Premium Dark Leather Backgammon Set
For players who prefer a large board with large tiles and large tiles, then this set would be perfect. To begin with, this backgammon set has a pleasantly hefty look and feel with the exterior featuring a luxurious leatherette finish and the interior having a padding of ultra-fine felt for a smooth playing surface.
This luxurious look is completed by the sturdy frame, strong latches, and a nicely rugged solid handle all of which employ quality craftsmanship.
Both the exterior and interior finishes are very well done, and the fittings align perfectly, which is just what anyone should be looking for in a premium backgammon set.
Ideal for both amateurs and pro-players, the large gaming surface of this set makes it perfect for across table use, and it is also ideal for tournaments other than just casual pastime play. At 1.5" in diameter and with a thickness of 3/8", the checkers in this set have a nice heft making them easy to handle and the regular-sized dice are easy to read.
For quiet play, the oval dice cups are lined with felt, and they also have tournament-grade trip lips which give fair dice rolls every time you play. This backgammon set might be pricier than the average budget backgammon sets, but it combines quality, elegance, and durability, therefore making it worth every penny.
Silverman & Co. 19" Premium Desert Brown Leather Backgammon Board
From the materials used to the design, the craftsmanship and even down to the detailing, this is a premium backgammon set that does not disappoint.
The sleek, smooth leatherette exterior comes as a welcome contrast to a rugged handle thus giving rise to a strong, luxurious frame.
On the other hand, the interior playing surface is made from ultra-fine grain padded felt which is a premium feature by the way. This felt padding provides a smooth surface for the checkers to glide luxuriously and it also results in a quieter play as compared to wood surfaces.
Noise reduction has also been considered in the design of the oval ergonomic dice cups which feature a felt lining, and they also have tournament-grade trip lips guaranteeing fair dice roll every time. This is a fold-able set, and it packs away nicely when not in use. When packed, the large tiles fit snugly with minimal gaps when placed in the side storage compartments.
This results in trouble-free closure and also guards against the checkers tilting or moving around the attaché unnecessarily. Besides the board, 30 chips, 4 dice and 2 shakers, this premium set additionally comes with a 1" doubling cube which normally only comes with the best backgammon sets that are much pricier.
Get The Games Out: Best Cheap Leather Backgammon Set
The old school design of the exterior of this game set is quite befitting, keeping in mind that this is among the oldest board games known to mankind. It features a smooth leatherette with brass-tinted buckles.
Unlike other game sets in the market, this one comes in three sizes: a small measuring 11", a medium measuring 14" and a large measuring 18".
This way, you have options on which set to go for depending on whether you intend to play the game casually at home or if you intend to carry it with you on road trips or even if you intend to carry the game set to your next tournament.
Another area of convenience is the fact that this backgammon set comes with space chips and dice – one of each color, in case any pieces get lost or damaged. Therefore in total, the accessories you would be getting with this set are the playing board, 30 checkers, 4 playing dice, a doubling cube, 2 dice shakers, spare chips, spare playing dice and a strategy and tip guide to help players improve their game.
Perhaps the one disadvantage to this set is that they playing chips don't have sufficient heft. All in all, though, this decent backgammon game set is a worthwhile investment. It's been always my recommendation for people with tight budgets who don't care about aesthetics nor prestige.
GrowUpSmart 17" Smart Tactics Mid-Entry Leather Backgammon Set
This game set has a frame made of sturdy wood and is encased in high-quality PU leather featuring neat, strong stitching around the edges.
The result is a briefcase with a neat classic black look on the outside but with vibrant red, white and green colors on the interior. The playing surface is made of soft felt over which playing tiles glide effortlessly during play.
The interior also features storage trays for holding the playing pieces when the board is not in use or when packing up the set for camping, road trips, etc. When folded, the case also comes with press buttons to lock the attaché securely shut.
This game set comes with well written illustrated instructions and rules to help beginners master the game or help masters sharpen their skills. Besides the instructions manual, the complete set comprises 30 playing tiles made of solid plastic, 4 dice, 2 dice cups, and a doubling cube.
The one downside is that the checkers do not fit snug inside the storage compartment and so they may move around when the bard is closed. But, hey! You get what you pay for, right?
Things to Consider When Choosing Backgammon Sets
Size
A 21 x 26 inches backgammon board is quite big, and these larger sizes are ideal for the dedicated players who play quite frequently.
If you are an occasional pastime player, however, then consider going for smaller boards measuring 24 x 15 inches.
Generally, if the checkers are less than 38mm (1.5 inches) in size, then this set would be on the smaller side.
If the checkers are larger than 44mm (1.75 inches), this is a gigantic set. 44mm tends to be the ideal size for tournament play.
Smaller backgammon sets are not only generally cheaper, but they are also lighter in weight, therefore, more portable.
You can easily carry them to a friend's house or the park for a laid-back game.
The downside is that smaller sets also come with smaller pieces that can be fiddly and a nuisance to handle and play with.
However, rest assured that you can still get a good game out of them. Keep in mind also that smaller backgammon sets are easier to pack and stow away.
Larger backgammon boards offer a better gameplay experience.
However, they tend to be heavier and occupy more space. Not to mention that they are also more awkward to transport.
This is not the kind of set you can toss in a backpack and go on your merry way.
Material
Traditionally, backgammon sets were made out of wood, ceramic, ivory, and bone. Most of these ancient materials are no longer available today.
Besides wood, modern backgammon sets can be made from plastic, cork, leatherette, felt, denim, vinyl, etc.
The material used has an impact on the durability, weight, quietness, and gameplay experience of a particular set.
Ceramic backgammon sets have an elegant and classic look. The downside is that they are quite costly and heavy, as well. It would not be practical to get such a set for moving around with.
Instead, ceramic sets are better off as a tabletop board, which adds to the décor of your home or office.
Plastic sets are very cheap, but they are also loud and don't last too long. Such sets chip and wear easily.
Quietness
Quiet sets are good sets.
When playing backgammon, you will continuously be rolling and throwing dice and moving pieces around the board.
You, therefore, want a set that will be as quiet as possible while you do all this. Not a loud, clunky board that will torture your ears.
A quality backgammon set should be made from materials that muffle the resultant noise.
For this reason, it is not uncommon to find a board made from wood but covered with felt and leatherette for noise-proofing.
A silent board is not only more appealing to play with, but the silence is a sign that the board is well insulated, and high-quality materials have been used to construct it.
This, therefore, translates into enhanced durability, meaning you will use the board for years to come.
Backgammon Dice
All backgammon sets come with two sets of dice. The difference is the quality of the dice used.
Dice may vary in texture, shape, and weight, depending on the particular set in question. However, one thing to keep in mind is regardless of the size or brand of the set, backgammon dice all have to be precised.
A game of backgammon is all about the excellent rolling of the dice.
Precision dice are much better balanced and therefore allow for a fairer roll that's truly random.
Besides the dice, the dice cup used in backgammon should also be lipped.
A lipped die cup design helps give a more random roll to avoid rigged, and controlled dice throws.
Top Backgammon Set Brands
Geoffrey Parker is probably the Rolls-Royce of backgammon sets. This UK-based brand has bespoken, handmade luxury sets featuring seamless leather-work and quite a high price tag.
The brand is known for supplying to some of the world's most famous backgammon championships.
Manopoulos
This Greece-based luxury backgammon set manufacturer is known for traditional handmade sets.
The sets are made from the finest natural woods using impeccable craftsmanship.
Dal Negro
Dal Negro has been around for over 200 years. Their backgammon sets feature exceptional attention to detail and are simply a work of art.
Zaza & Sacci
This Italian manufacturer makes superior hand-crafted luxury backgammon sets using fine Italian leather.
Difference Between Leather Vs. Wood Vs. Marble Backgammon Sets
Wood is the standard material used in most backgammon boards. These boards tend to be much louder, and additionally, the dice spin more and for longer periods on a wooden surface.
Another thing to note is that the wooden surface could develop scratches, thereby leaving behind unsightly marks on the board.
Depending on the type of wood used, wood may be used to make both high-end and low-end boards.
Leather backgammon boards are much quieter, and unlike wood, the dice settle much quicker once rolled. The downside is that the leather surface is more prone to stains and can be damaged by accidental spills.
Leather backgammon sets are pretty lightweight, so they popularly come in a portable briefcase design.
Marble is used in making ultra-luxury backgammon sets. This natural stone results in boards that are extremely hard, durable, and quite heavy too.
For this reason, marble is popularly used to make tabletop backgammon sets.
Marble sets are decorative and highly aesthetic, so they may not necessarily be used for everything backgammon playing.
Such sets are also pretty expensive, though, and they are quite noisy as well.
Which Type of Backgammon sets to Choose?
Marble, wood, and leather can all be used to manufacture high-end luxury backgammon sets.
All three materials give rise to a smooth and durable playing surface.
Of the three, marble is the most durable, while leather is the least durable, seeing as it will sustain damage over time.
The same applies to costliness, whereby marble is very expensive, followed by wood and finally leather.
Some players tend to enjoy the noise produced by wooden boards seeing as the noise can add to the ambiance of the game. If you are such a player, then there is no harm in going for a wooden set.
On the other hand, if you will need a very quiet board ideal for tournament play, then choose a leather set.
If you need a set that will be an ornamental piece in your home, then marble is the way to go.
Frequently Asked Questions About The Best Backgammon Sets
Where Is Backgammon Most Popular?
Backgammon is extremely popular in the Middle East and the surrounding areas; particularly in Greece.
The Greeks call it Tavli, and the game is so popular that it is Greece's national board game.
This highly addictive game is a Greek habit enjoyed by players of all ages. You can find people playing it everywhere: at home, in cafes, in parks, on the beach, on a boat, etc.
Besides Greece, other countries where the game is just as popular include Turkey, Armenia,
What Is the Standard Size of a Backgammon Board?
There are no official rules which regulate the size of a backgammon board. Therefore, this choice is based purely on personal preferences.
To gauge the size of a backgammon board, players often use the size of checkers for which the board has been designed.
Generally speaking, checkers can measure anywhere between 38mm (1.5 inches) and 51mm (2 inches) in diameter.
When the checkers are smaller than 38mm (1.5 inches), then that set would be considered too small.
When the checkers are bigger than 44mm (1.75 inches), then that set would be regarded as too large.
Experience players often find 44mm to be the acceptable size, and common practice is to use a board that's no less than 17 inches in width.
How Do You Set Up A Backgammon Board?
In backgammon, each player has 15 checkers, and all the checkers should be arranged accordingly onto the triangular spaces on the board.
Place five checkers on point #6, three checkers on point #8, five checkers on point #13, and the last two checkers on point #24.
Each player's checkers should mirror the other player's checkers.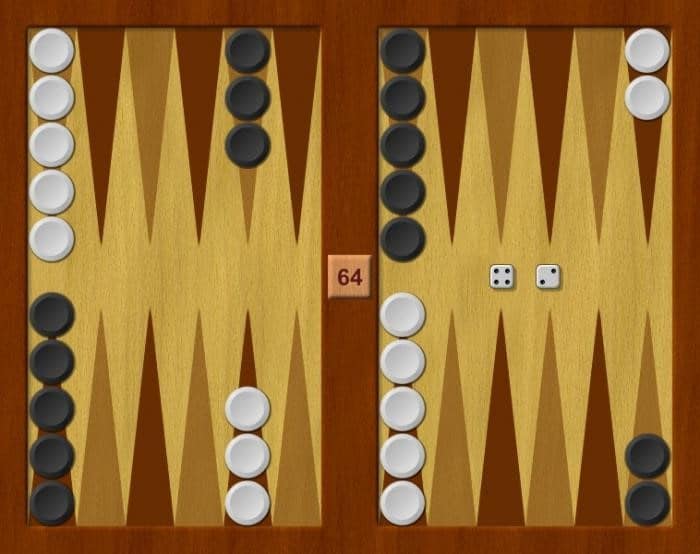 What Comes in A Backgammon Set?
30 checkers (15 of each color)
4 dice (2 sets of each)
A doubling cube (having pips 2, 4, 8, 15, 32, and 64)
2 dice cups/shakers (only included in some sets).
Is Backgammon A Skill or Luck?
Luck may be one of the determinants in how a game of backgammon might turn out. However, in the long run, backgammon is all about strategy.
Once the dice are rolled, a player has a wide variety of options for moving their checkers on the board.
Besides merely moving different pieces, a competent player has to anticipate the opponent's possible counter-moves and prepare accordingly.
Meaning you would not only be studying the board, but you have to study your opponent as well.
To be good at backgammon, a player needs to understand certain concepts such as match equity.
Additionally, you would also need to keep track of pip counts as you wait to strike when they are in your favor.
Similar to chess, computer scientists have studies backgammon with great interest, all in a bid to develop software that's capable of beating world-class human backgammon players.
So how can such a game rely purely on luck?
A lot of strategy and skill would be required, don't you agree?
Let me know in the comments what do you think about this.